Physical activity is good for our health but making changes can be really hard. Whether you're struggling to find the motivation, are unaware of what's going on in your area or want some support to explore possibilities then Velocity's Active Health Project may be for you.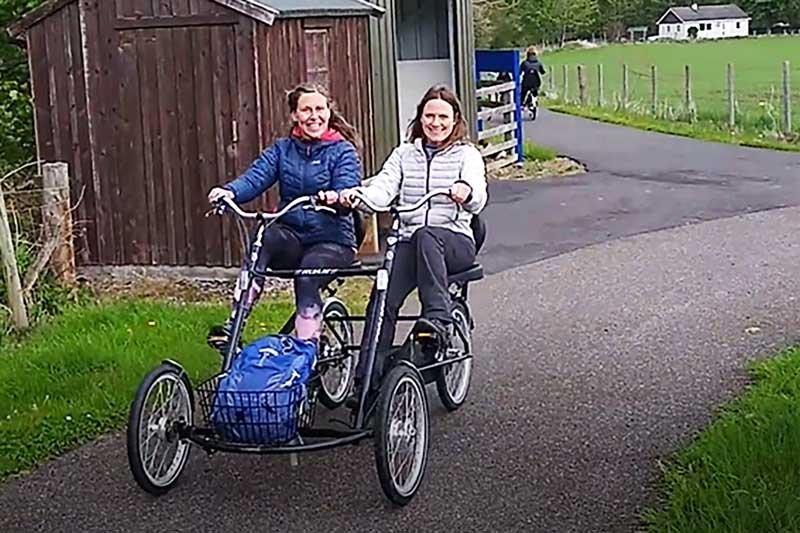 Link workers Lisa & Jodi can help you to think about why being more active is important and how it will benefit. They explore what makes it difficult for you specifically, and look at achievable and realistic ways that you can begin to make changes. They're not personal trainers, they don't tell you what to do or physically engage in activity with you. It's more of a collaboration – a chat about where you are right now, where you'd like to be and how to bridge between the two.
The project is for anyone who would benefit from being more active and self referrals are taken (as well as referrals from GPs and health practitioners).
Sessions are usually by video call (or phone) on a 1:1 basis and the whole NHS Highland region is covered. After the first appointment, ongoing supportive check-ins can be arranged.
Whilst walking is the most common activity discussed they can talk about all sorts that may be available throughout the Sutherland area from yoga to gardening, cycling to swimming and much more in between. Green health is a particularly important element of the conversation. Active travel is also woven into our chat along with other opportunities for incidental exercise like housework.
For many people, the pandemic has affected their level of activity, maybe through anxiety, change in routine or circumstances. They can discuss these issues to unravel how best to address this.
In the last year of the project some 86% of participants who engaged for 3 months reported that they had been more active as a result of participation. And this has led on to some good feelings:
"It's helped me to see things differently, to notice changes in my activity levels and be more conscious of what I'm doing."
"Meeting up with the link worker has given me the necessary motivation to get moving and enjoy it. It came at the right time and gave me the kickstart I needed."
To find out more head over to www.velocitylove.co.uk/projects/activehealth or call 07514 786218.
By Lisa Matheson
Last Updated on 10 June, 2022 by Kyle Chronicle