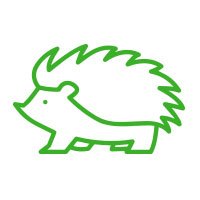 In May we had a visit from Woodland Officer Piers Voysey

I guess it's been a pretty typical spring with warm sunny days and frogspawn in March followed by snow forecast for April. We finished off our birch thinning sessions for the year and cleared drainage ditches alongside the paths – and attempted to get the area beneath the boardwalk to drain more freely. Some of the boards will need dryer weather in the summer to be replaced. We have been looking into using sheep fleece for some of this – the route is edged with wood, fleeces rolled and laid onto peaty ground and topped off with scalpings. Each metre of path requires 4 fleeces, so lots of fleeces required – do get in touch if you have lots spare after shearing!
At our May volunteer afternoon, we welcomed Piers Voysey, senior woodland officer with Community Woodlands Association, for a return visit to our woodland. Piers had done much of the work on the Environmental Audit which we commissioned in 2008 and we were interested to discuss with him the work we had done since then and take onboard suggestions for future management. He suggested that we revisit some of the birch thinning and choose the individual birch trees that were showing the most potential to develop a good crown in the future, removing the weaker specimens. We talked about the importance of aspen in a mixed native woodland – both for lichens and when decaying as a food source for certain specific rare moths. We learned that the length of time a tree had been decaying was also important. Taking time to observe what is happening in the wood is an essential part of planning for the future – and you also notice lots more things than on a casual walk through – we found a number of saplings of holly, pine and juniper in addition to the larger numbers of oak, aspen and birch. I certainly enjoyed exploring in the wood and being reminded that our wee patch of wood is very special and needs to be cherished.
Get in touch by email or come along on the 1st Thursday of each month 2-4pm.
By Betty Wright
Last Updated on 10 June, 2022 by Kyle Chronicle