Gearrchoille Community Wood Ardgay held its AGM last autumn. The group continues to meet on the first Thursday of each month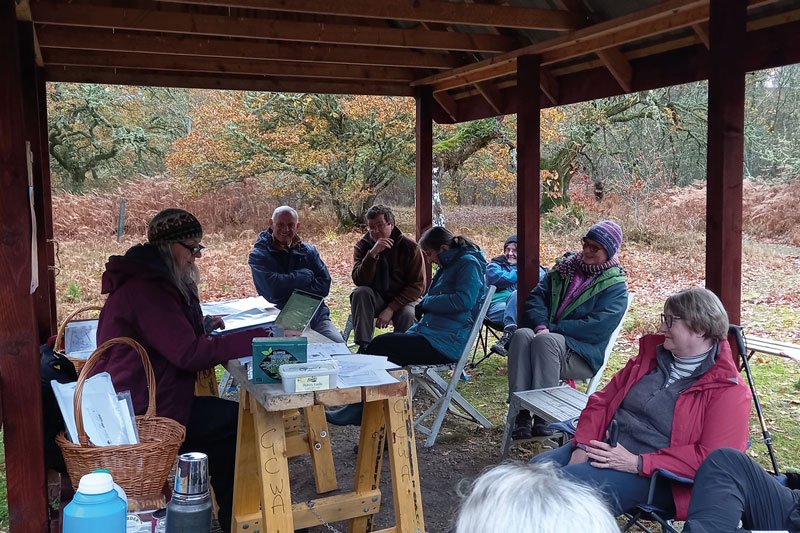 What an amazing and extended autumn this has been – with warm days stretching into mid November (13ºC at 8am this morning). I hope many of you have been able to visit the woodland to enjoy the autumn colours and the many interesting fungi on show. We certainly benefited from the mild weather when we decided to hold our AGM in the shelter in the wood, so we could meet in person.
We are hoping to be part of a Scotland-wide project looking at oak woodlands and how they may have responded to climate and management over their lifetime. This knowledge has previously been gathered for Scots Pine using dendrochronological methods and this project will extend this to our oak woodlands. This will be determined by taking cores from individual oak trees to examine the tree rings. Data collected will be used to inform current management strategies for different regions of Scotland and increase woodland resilience in coming decades. We will have more details of this in the spring.
We have been talking quite a bit about aspen – some of the trees near the car park have 'broken' areas of bark and it appears that one of the trees has died. It has been suggested that this is a form of canker. Aspen roots travel some distance from the trees and can cover very large areas, throwing up suckers as they go – so many trees in a stand of aspen are part of one large organism. Will the canker spread through the roots, or is it airborne? We will try to find out. Aspen makes an important contribution to biodiversity in ancient woodland where it plays host to numerous fungi, lichens, bryophytes and invertebrates. Its base-rich bark is a particularly suitable habitat for many rare and threatened mosses and lichens.
If you are interested in helping out in your community wood, come along to our volunteer afternoons on the first Thursday of each month, 2-4pm. We do a variety of jobs, mainly to keep the paths clear and safe and what has become our annual job of clearing weeds and silt from the pond to maintain a balance between open water and plants. One of the bigger bridges on the original footpath was given a facelift – not just because it was slippy, but there was some amount of rot in the timber. The dampness and shade in the wood makes it an excellent place for fungi of all kinds. Any comments about the wood, please email: gearrchoille@gmail.com.
by Betty Wright
Last Updated on 4 December, 2021 by Kyle Chronicle