Neil Anderson shares his memories of the places and the people he met in the 1940s, 1950s and 1960s Ardgay. His family had links both to South Bonar and the Balnagown Arms Hotel.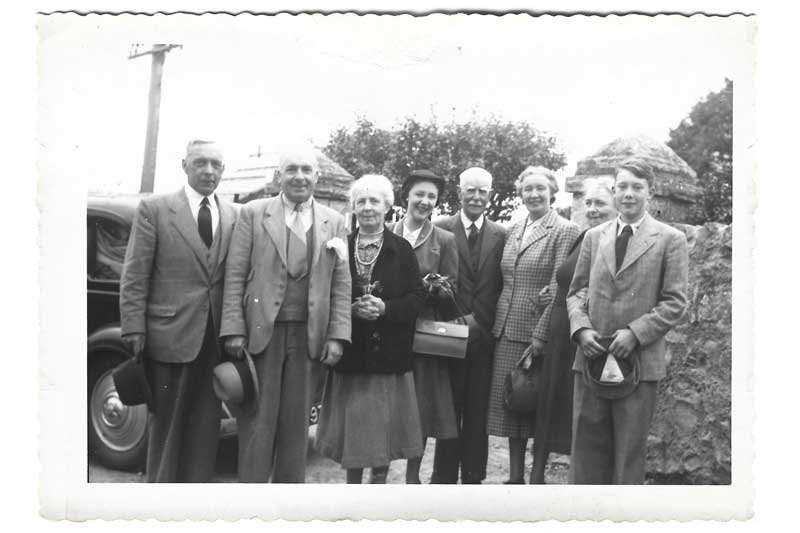 Ardgay House, 1952. Left to right: William Anderson, Dr Abner Anderson, Ruby Anderson, Katharine Anderson, Fergus MacLeod, Kitty Anderson, Mina MacLeod, Neil Anderson. © Neil Anderson

Neil Anderson on Balnagown farm horse. © Neil Anderson

Harvesting. Left to Right: Andrew John, Neil Anderson and Ian McGregor. © Neil Anderson

Mina MacLeod, Fergus MacLeod, unknown, Dr Abner Anderson  and Ruby Anderson. © Neil Anderson

Donald Mackenzie, Balnagown Farm shepherd for 40 years, he lived at Badvoon. © Neil Anderson

Hay making on Balnagown Farm: George Fairburn (back) Ian McGregor (driver) Neil Anderson at tractor wheel and Miss Heap, standing. © Neil Anderson
---
My name is William Neil Anderson and I am the last Anderson who had any connection with South Bonar at Bonar Bridge and the Balnagown Arms Hotel at Ardgay.
I was four years old when first taken to Ardgay and Bonar at the beginning of the Second World War. My father, William, the youngest child of George Anderson, had four brothers and two sisters. My parents brought my sister and myself to stay with Auntie Mina and Uncle Fergus Macleod at the Balnagown Arms Hotel which they managed. We lived between there and South Bonar with Uncle Abner and Auntie Ruby who were brother and sister, for about six weeks and went back home to Yorkshire. In June 1942, we were bombed out there and went back to Ardgay for another six weeks.
During that time, I got to know a lot of the village people; Mary at the station book stall, Dolly at McCaskill's shop, Jack and Kath Fraser at their shop, Jock Bethune the blacksmith, Kenny the policeman, Bunty at the Post Office, Alec McKay at the garage, Rattray the grave digger, the Dunbar family, Teenie Aird, the AA man on his motor bike and sidecar who came through every day and, of course, the hotel staff and farm workers.
From 1947 until 1965, I used to come to Ardgay House and stay for about six weeks holiday in the summer. During my stays I was involved with old hotel staff – Teenie Mackenzie (Dounie), Mina Calder (Airdens), Annie Macgregor (Ardgay Hill), Mrs Johnson (Ardgay), and those on the farm – Ian McGregor, Andrew John, George Fairburn and Teenie's brother Donald Mackenzie who was the shepherd at Badvoon. Willie McLaren and the actor, James Robertson Justice who had a cottage on Ardgay Hill.
We used to play football on the Poplars Farm field, tennis near the sheep folds by the Railway goods yard, listen to the Pipe Band on a Saturday night outside Miss Henderson's cottage in the Square. We went to the Durness Highland Games with the Pipe Band and the sheep dipping up at Badvoon.
I never came back owing to other commitments until 2016 and 2019. I was very pleased to see all the new building and had a long talk with Willie McLaren who remembered me. I walked up Ardgay Hill to Badvoon. I hope to return again, this year. Very happy memories of a wonderful place.
By Neil Anderson
Last Updated on 10 June, 2022 by Kyle Chronicle