Many volunteers across our area are currently making scrubs, bags, gowns, hats, etc for the NHS.
Lairg volunteer Heather Cazot-McRoberts tells her story: "Since I had to close the shop -The Rusty Coo in Lairg- and I really wanted to do something to help, I have been self-funding and working on my own since the 1st of April. As demand was so high, I decided to begin sewing and looking for people in need through the For the Love of Scrubs Facebook group page. It started with a cry for help for 10 scrub bags from Tain GPs, then bouffant scrub hats for neurosurgeons in Birmingham.
Since then I have made around 20 isolation gowns for GPs in the Highland area, 15 sets of scrubs for Raigmore, and 40 or so face masks, with requests still to fill. Thanks to kind donations from Lairg Blythswood, lots of local people, B&Bs, and fundraising from VK Arty Stuff, I've had money to buy scrub material and have been given duvets, etc, to make all the other items from. It's been an enjoyable experience, and I feel lucky to have been able to join in and help. I would encourage anyone else who would like to try, to take a look at For the Love of Scrubs and give it a go!"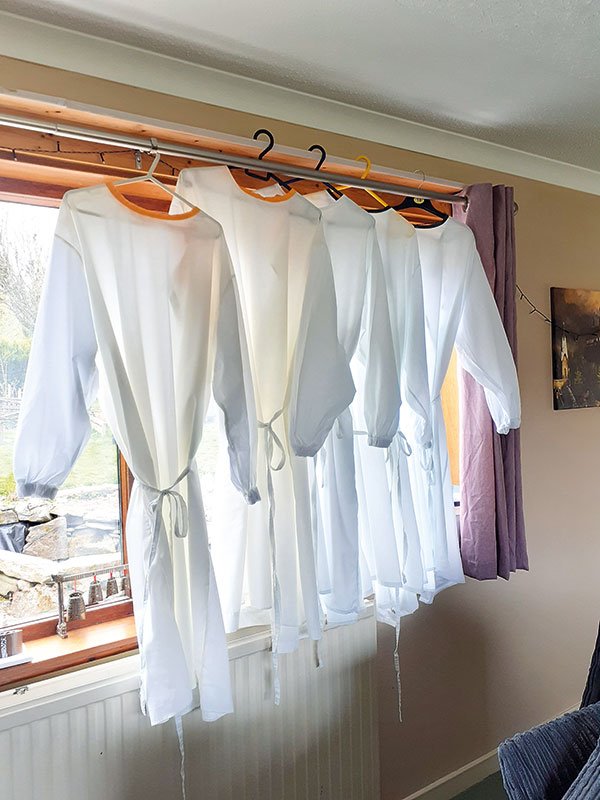 Isobel Ross, Bonar Bridge, said: "There was a nurse in England who started a group called For The Love Of Scrubs so, before the Scottish group was set up, I thought it was something that could be done here. I put a bit of information on Facebook and got a lot of donations from local businesses, neighbours and friends and family.
The fabric was then purchased and Jenny from J&J Walker bulk cut the scrubs not only for our group, but also for a group in Caithness and a group in Inverness. Together with Jenny, Betty Murray, Bryony Ballantyne and Ester Farquharson we have almost completed 150 sets of scrubs for a very good cause.
I would like very much to say a massive thanks to everyone who donated money and all the team who sewed them up."