The pandemic changed the world and the way that it works, but despite all the challenges and upheaval, the team at Bonar Bridge Pharmacy managed to maintain the same level of service throughout.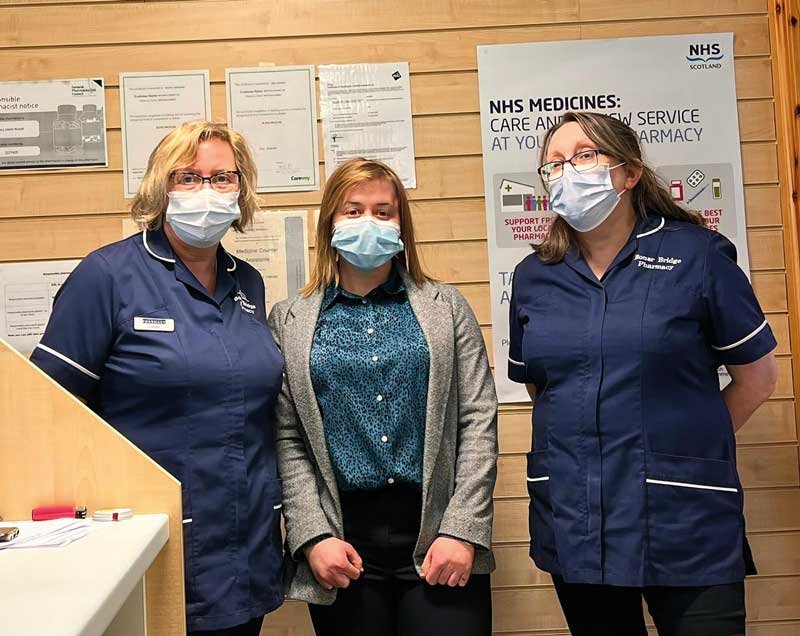 "It was different" said dispenser Antoinette. "I was newly in post and just finding my feet and then Covid19 happened. All of a sudden we had to operate a locked door policy and demand for pharmacy services rocketed. There wasn't much advice or guidance in the initial stages but Martin (the pharmacist at the time) was very decisive and we just got on on with the things we could control".
"We were lucky within the team that we have only had one case of Covid19" added Michelle, Bonar Bridge's long-serving dispenser. "The Bradbury Centre team were a great help and a number of patients offered to collect prescriptions and drop them off with vulnerable neighbours"
Linda reflected on the changes that have been brought about: "Hygiene standards are as high as ever; we are still disinfecting doors, chairs surfaces etc and using disinfectant air spray when needed".
"We are still being careful – but hopeful" added Antoinette "but it's nice seeing patients again!"
Pharmacy First has been invaluable in recent times. The Pharmacy is able to write pharmacy prescriptions to treat a range of minor (and some not so minor) conditions, so they have been able to support the whole healthcare team and help patients access NHS services more quickly than ever before.
There have been other changes too at Bonar Bridge Pharmacy over the past couple of years: we have seen the departure of local pharmacist Martin, the return of Stacy, the birth of a baby boy and now Lucy has moved up from Glasgow to be the pharmacist for a year.
"I undertook my pharmacist training in Rutherglen during the pandemic" said Lucy "and that had an impact on me; not being able to spend so much time with patients. But the extra demand helped to make me more resilient and I'm making great connections now with patients in Bonar Bridge. I was taken aback at first that everybody seems to know everybody – and what everyone is up to – but it's been so nice and the people here really look out for me. They are so friendly and I've been given lifts and gifts and people help me with the bins and taking rubbish to the dump. I've been active in the Church and joined the running club too – in fact I'm currently training to do the Edinburgh half marathon at the end of May".
"Now that things are getting back to normal we are setting our sights on doing some charity events and will look at introducing new services like blood pressure testing and bringing greater focus to events throughout the year like Easter, Father's day, Halloween, etc"
"Now that things are back to normal we are setting our sights on charity events and introducing new services such as blood pressure testing"
It still isn't clear what the future holds or what kind of lingering impact Covid19 will have on the community, but the Pharmacy has done Bonar Bridge proud over some difficult times, and it sounds like there is plenty to look forward to as another chapter begins.
Pop in and see the team in your local community pharmacy any time to find out all the ways that they can help you.
By David Dryden
Last Updated on 13 June, 2022 by Kyle Chronicle