An overview of the history of the forestry industry in the Kyle of Sutherland, by Norman Davidson, curator of the Forestry Memories website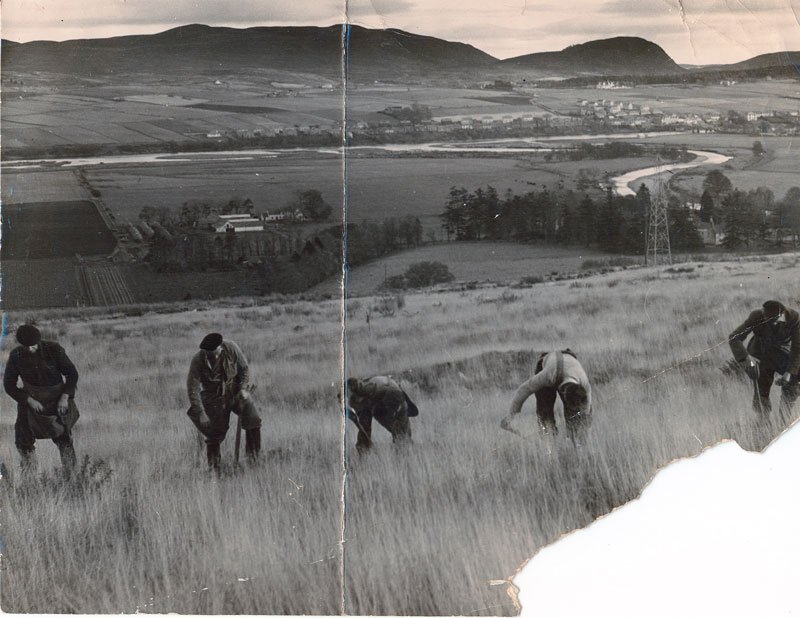 Many of us are very familiar with the 'million dollar' view from the Struie Road. As a forester I noted the extensive tree covered slopes that are a key part of the scene and sometimes wondered what the view would been have like without all those hand planted trees.
I was very surprised to learn that large areas were planted shortly after the end of the Napoleonic wars in 1815 by very enlightened owners in what was to form parts of the estate lands of Skibo in Sutherland and those of Charles Ross in Ross-shire. I have very little information on the extent, timing and the actual landowners of that time but any information would be very welcome. Looking at the first Ordnance Survey maps of the locality surveyed around 1870-1880 there are some very obvious extensive conifer forest areas.
If we move in time to the 20th century, many local people will have heard and read about or even observed the major clearances of woodlands and forests to provide one the essential resources for two world wars. Due to the enemy blockade and shortage of ships, timber imports were almost totally cut off and Britain had just about enough timber growing on its land to meet the demand in the two wartime emergencies. The woods and forests were felled and processed by local wood cutters and sawmills but the war effort also resulted in American, Canadian and Newfoundland manned teams coming over and felling substantial areas. Of note also were the ladies who formed the Timber Corps and who also played a substantial role in the felling and processing of yet more timber. After 1918 and even more starkly by 1947 almost all well grown trees were gone and even fairly young trees had been taken. The forests were bare and a landscape of dead branches and rampant herbage took their place. Many land owners had also fallen on hard times and sold their land, and tree replanting was at a very low ebb.
Forestry Commission
After many debates and passionate arguments for a national timber reserve or a national forest service, Parliament eventually agreed to the formation of the Forestry Commission in 1919. Borgie Forest, near Bettyhill, the first tree planting by the Forestry Commission took place in 1920. In the Kyle of Sutherland locality the Forestry Commission only committed itself to one area, Balblair Wood, before the Second World War. This was purchased about 1929, a total of about 1,374 acres, which I presume was mainly all felled woodland, and tree planting began shortly afterwards. The next area was a part of what became Shin Forest when a substantial area of over 13,000 acres was purchased in 1949. I suspect this was the Achany Estate which extended down towards the Invershin power station and west towards Rosehall. Following on in quick succession in 1951 were the areas subsequently named as Craigs Forest and Oykel Forest.
Craigs Forest was located in Strathcarron and was initially formed from areas known as Strathcarron and Braelangwell. I believe the old wooden forest office was located near to a small lochan opposite Cornhill not too far from Syall. Over time more areas were added at Invercharron, Carbisdale and more distantly up past Croick Church in Strath Cuilleannach. We tend to forget in the early days that the river Oykel was not well furnished with road bridges, with nothing between the Bonar and Oykel Bridges. Crossing was certainly accomplished by fording but was very risky in heavy rain conditions. More land was acquired around Strathkyle Lodge and Inveroykel and added to the responsibilities of the forester at Craigs Forest, whose access was on the road that crossed over the Telford Bridge and wound its way up below Carbisdale Castle and on to Inveroykel. By 1961 Balblair and Craig Forests were amalgamated and run as one forest unit.
Oykel Forest had its beginnings I believe in the Rosehall area and probably extended up the Strath towards Oykel Bridge and onto Glen Einig. The land was much less fertile in these upper reaches and different tree species and cultivation was essential for any success in planting. By 1970, changes in the organisation of management units or forests resulted in larger units manned by teams of foresters under a Chief Forester backed up with office staff who carried out much of the clerical work. By 1972 Shin Forest was formed from the four original forests of Balblair, Craigs, Oykel and Shin and the main office located at Ord Place, Lairg.
Trying to tease out the Forestry Commission land acquisitions and the order in which they were done is not that easy, but trying to find out the names of foresters who manned these units is almost impossible whereas the names of the workers exist only in the memories of their families who knew of their work history. Forest workers' names for each forest were recorded in a little book and given a number which was prefixed by the official forest number. An example might be NS3/21 where NS referred to North Scotland and forest number 3. The 21 referred to the order in which that employee was taken on from the very start of the forest and over the decades could rise well up into the hundreds as workers came and went. These note books were very seldom retained and as amalgamations and changes took place they were sadly destroyed. One function of the Forestry Memories website is to offer families an opportunity to have their relative's names and images recorded and to describe how they contributed to the forest industry in Scotland.
Identifying foresters
Going through the records that I have access to and the Forestry Memories website I see that Mr. R. A. R. Sutherland was in charge of Balblair and Craigs Forests certainly from 1950 onwards. There is also mention of R. (Bob) L. Howard and W. (Wilfred) M. Lawson with D. (Duncan) J. Macrae in overall charge around 1960. The latter stayed in Fearn House in Bonar Bridge where I and my family stayed from 1979 to 1983. Mr. A. R. Maclean started Shin Forest in 1950 and held that position possibly until W. A. (Alex) Lockhart arrived about 1960. Hugh Mackay was a forester in Oykel Forest after a stint at Craigs Forest and he returned in 1987 as Chief Forester covering the Shin Forest amalgamations. He and Moira moved to Fearn House in Bonar Bridge about 1983 where they continued to live after Hugh's retirement in 1985.
The following is a little story as told by Willie Cameron, Head Forester, who retired to Rogart. Around the late 1950s Wilfred Lawson, a forester at Craigs Forest was one of a quite a large number of foresters sent to attend a meeting in the Conservancy Office. The subject came around to delicate topic of housing for foresters which was in some cases of a pretty low standard. Wilfred at that time was staying in Dairy Cottage near Invercharron. He got to his feet at the meeting and claimed strongly that he was living in a byre. Mr. Nicholson the senior estate or administrative officer countered by saying "Oh come now – we have done a lot to that building". Wilfred's reply "Indeed – you have just put the cattle out!"
I have no records of Forestry Commission workers in the Bonar Bridge & Strathcarron area but the following people do come to mind as working there around 1980. Jimmy Cameron, Bonar Bridge, was the van driver; Willie Ross who may also have come from Bonar Bridge; George Ross a former ganger but took on the role of wildlife ranger or keeper and stayed up in Wester Gruinards, his wife was called Elsie; Markie Murray was the ganger from the Bonar Bridge area (his wife was Barbara), Alastair Matheson who had a croft up at Airdens and also Hugh Lobban from Bonar Bridge who were both harvesting chainsaw operators. A long term employee also was Kathy Fraser, Bonar Bridge, who initially worked in the forestry office attached to Fearn House in a clerical role and then following the amalgamation worked in the Shin Office. It would be great to get the names and photographs of more people who worked in the forests and add their story to the Forestry Memories website. I can be contacted by email here.
by Norman Davidson