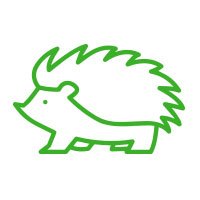 A few months ago, I had the pleasure of speaking with the members of Ardgay & District and Creich community councils about some of the work The Highland Council is doing to meet the climate and ecological emergency.
As one of The Highland Council's Climate Change Coordinators, I am part of a small but growing team working across green projects ranging from sustainability in the workplace to carbon sequestration and climate awareness training. I wanted to take this opportunity to go into a little more detail on a few projects that I am involved in which I think will have a really positive impact both within the Council and the wider region.
As a Local Authority, we want to operate as sustainably as possible and are always looking for practical new ways to reduce unnecessary waste. Green Impact is an exciting new tool which we introduced at the end of 2020 and aims to encourage departments across the Council to take big and small actions to make their day-to-day work more sustainable. An action could be as simple as encouraging colleagues to attend an online recycling workshop, or as big as a whole department switching short car journeys to bicycle journeys for a month! The great thing about Green Impact as that it is not only a sustainability tool, but also encourages staff to take actions which improve their own health and wellbeing, with exercise and social interaction being top priorities. You can read more about Green Impact by visiting this website.
People in The Highlands are rightly proud of our immense peatland habitats. We have the largest blanket bog in Europe, The Flow Country, which is of such quality and extent that it may become the UK's next world heritage site! The Flow Country Partnership is taking forward the nomination of The Flow Country for this prestigious accolade, with The Highland Council being a key partner. If we are successful, The Flow Country will become Scotland's first fully natural world heritage site (St Kilda is a cultural and natural site) and the world's first peatland world heritage site. The Flow Country passed stage one of the nomination process early in 2020 and is moving to the second and final stage with plenty of momentum. Keep your eyes on this website for details of upcoming community consultation events – we would love to hear your thoughts!
It is so important that we make decisions with an awareness of their impact on the environment. For this reason, we have been working closely with The Scottish Cities Alliance and the Improvement Service to find the best climate science awareness training for our decision-makers at the Council. You can read more about this important work by visiting this website.
These are just three of many initiatives taking place at The Council which will help us to meet our ambitions in meeting the climate and ecological emergency. I would be delighted to hear from you if you have any queries or suggestions about our work, so do please send me an email
Thank you for your time in reading this and here's to a greener Highland!
by Joe Perry
Last Updated on 10 September, 2021 by Kyle Chronicle