This is a really exciting time for gardeners. Here are are some experts' tips 
to get your garden ready for the season ahead.
We are all very aware how quickly the weather can change in early spring. Make the most of any good weather and get into your garden. It is sowing season so you can prepare the ground and start those seeds under cover, in a polytunnel, greenhouse or cold frame. If you don't have these yet, in your porch or on your windowsill.
Flowers
As clumps of perennial plants emerge after their long sleep it is time for a tidy up. Cut down those brown stems and add them to your compost bins, but be careful as hollow stems may have insects inside them waiting for the weather to get warmer. They should have time to escape. Remove weeds but look for self sown seedlings of garden plants which you can pot up, move to empty spaces or save for swaps with other gardeners.
If your clumps of plants are becoming too large and congested you can dig them up and divide them. If you can't easily separate the roots, I recommend using an old bread knife or hand saw. You can replant or pot pieces of the plant with stems and roots from the outside of the clump. The centre of the clump dies out so can be put on the compost heap. If you have well rotted manure or compost you can add a mulch round your plants, add plenty and your plants will reward you in terms of growth and flowers. Chipped bark can be used as an alternative. As your perennials grow you should add plant supports, you can buy these, but twiggy branches can be used and will vanish beneath foliage as they grow.
I hope you are enjoying your spring bulbs. Your large snowdrop clumps can be lifted as soon as the flowers fade but while the leaves are still green, split them into three or four smaller clumps and replant them. When your daffodils flowers fade cut them off and put them on your compost heap. Don't cut off the leaves until at least six weeks after they have flowered or you will lose next year's flowers.
New perennial plants can be planted, bargains can be found in the discount shops and supermarkets, if they are dry root plants in packets check that they have one or two green shoots before you buy them. Any gaps in your borders can be filled with annual plants or you may wish to plant fruit, herbs and vegetables in with your flowers, I do.
Trees and Shrubs
Your trees and shrubs will also benefit from a weed and a mulch as described above. Any dead shoots damaged by wind can be cut out and composted. Bare rooted trees and shrubs can still be planted in early March but any later and they will have to be container grown.
Climbing Plants
Prune any climbing roses which you didn't get done earlier in the year. Start to tie in shoots of climbing plants to their supports as they grow. Annual climbing plants can be started off from seed under cover or bought as plug plants and grown on. Sweet peas do well in this area as they do not suffer from mildew on the scale that plants further south do so have a longer season. They can be sown directly into the ground from mid April if it is mild enough. If you are visiting a garden centre they will sell pots of young sweet pea plants for a modest price if you have forgotten seed.


Annual & Bedding Plants
Plug plants of annuals and tender perennials are available in garden centres and by mail order now. If they are too expensive or you have nowhere to harden them off you can try preparing your ground by raking well and sowing directly into the ground where you want them to flower. Poppies, cornflowers, and many other fast maturing annuals which are cheap to buy will grow and flower, filling gaps in your borders. You can grow them in containers too. You can also grow many annuals under cover in small pots or trays. Even a sunny windowsill can be used to raise some seedlings. There is a wealth of advice to be found in books or online. The RHS website has a wealth of gardening information.

Vegetables and Herbs
If you have the room, try growing some of your own vegetables and herbs. If you are a beginner you can plant some seed potatoes, I grow some in the ground and some in old dustbins in a mixture of soil and well rotted compost. Onion sets can simply be pushed into the ground. Carrots can be grown in large plant pots and tubs. If they are well off the ground they will avoid carrot root fly. Salad leaves can be grown in containers and a few baby leaves harvested at a time rather than uprooting a whole lettuce. They will need feeding, watering and weeding. Mint, chives, parsley and other herbs can be grown in pots. If you keep them near your back door you are much more likely to harvest them, they can be chopped up in your salads as well as added to cooked dishes. Try some of your favourites and gradually add more as your confidence grows with your plants. They taste much better than shop bought too.
Fruit
If you are already growing cane fruit such as raspberries, your pruning should be completed, you will need to tie in new shoots as they grow to supporting wires. Gooseberries will benefit from wood ashes adding to the soil round the plants. Blackberries, tayberries and loganberries will need tying in to fences or wires. Soft fruit can be frozen or made into preserves as well as used in wonderful deserts. Soft fruit grows very well here and is expensive to buy so it It is well worth making room for. Top fruit such as apples, plums and cherries will soon be blossoming, hopefully we will avoid late frosts this year which spoilt the crop last year. If you have strawberry plants and a greenhouse or polytunnel, you can plant a few into hanging baskets and bring them inside for wonderful tasting early strawberries. All the fruit in your garden will benefit from an application of organic plant good in spring.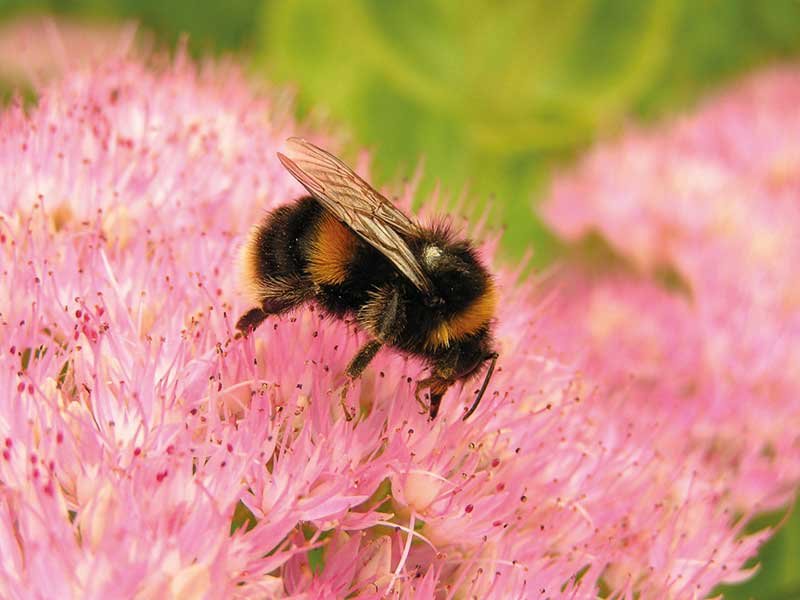 Wildlife Gardening
The best features for wildlife in you garden are birdfeeders and nestboxes, trees and hedges, longer grass containing plants for pollinating insects, lots of single flowering plants and shrubs and a garden pond. Please don't use chemicals and slug pellets and value the insects. Most baby birds need small insects and caterpillars to eat in the nest. Hedgehogs need to be able to get in and out of your garden. Don't tidy up too much or too quickly, build an insect hotel. Have a shallow dish of clean water in your garden. Cherish the wild things in your garden as many of them are in decline. Don't clean out your sheds in winter or early spring as they will contain hibernating butterflies if you are lucky. We counted six in the shed at work.
If you have any gardening questions, please email them to gardening@kylechronicle.co.uk and I will try to answer them in the next issue. Happy Growing!
by Jean Richardson