How the small-but-mighty midges stopped a train
They have cut short many a walk, the midges, but did you know that they also stopped a train? An actual passenger train! It was the north-bound express engine pulling ten carriages, intending to complete its usual route through Ross-shire and Sutherland before ending up in Caithness. But, this Summer's day in 1897, while the train attempted an incline some two miles before Invershin station, it came to a gradual… halt.
Surrounded by dense woodland, the crew alighted to see what the trouble could be. Through incredibly vast swarms of midges they examined the train tracks only to find that they were clarted with some sort of slippery substance which had "… prevented the wheels gripping the rails, and so compelling the powerful engine to come to a standstill". But what was this peculiar substance? A substance apparently powerful enough to stop a ten-carriage train in its tracks. The conclusion reached was that the substance was actually some sort of midge paste! "[the] midges were crushed in myriads under the wheels of the train".
Being caught in a swarm of midges is rarely a pleasant experience, and there are tales of the wee biters being utilised as a method of torture – one of the more well-known stories is that of a gravedigger on the Island of Rum/Rhum in the west of Scotland, who was stripped and tied up while the midges were allowed to feast on him (this was said to have been a punishment for failing to inter a body properly).
But back in the summer of 1897, near Invershin station, as attempts to cover the track with soil/ground to give the wheels a chance of grip failed to work, the train did eventually get back on its way, but only after the burden was reduced on the engine whereby it was made to pull the carriages in stages up the incline.
So, what do you think? Could something so small really bring such a mighty travelling feat of engineering to its metaphorical knees?
By Anna MacRae MacDonald
---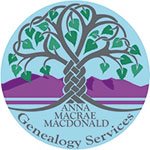 Genealogy services based in the Scottish Highlands. Get in touch by email or find on Facebook #annamacraemacdonaldgenealogyservices
Last Updated on 11 June, 2021 by Kyle Chronicle