This building west of Ardgay has been recently refurbished as a holiday cottage in order to bring it back into regular use. Originally regarded as temporary, it is over 100 years old. The hall has been linked to education and worship throughout most part of the 20th century.
AFTER: The outward appearance of the hall remains true to its original design.
© CH Architecture

BEFORE: The hut before its refurbishment

AFTER: 
It now makes 
a comfortable 
retreat
for 
two people. © CH Architecture

WEDDING VENUE. The Mission Hall in its heyday, with the organ and the altar table decorated to celebrate a marriage, in 1977. © Margaret Ross

LAST SERVICE: the July 2017 issue of the Church of Scotland publication Life and Work reported that a thanksgiving celebration was held to celebrate 100 years of Christian witness at the Mission Hall before being closed for worship.

The hut before its refurbishment.

The building was probably bought from a catalogue such as this William Cooper Ltd, flat-packed and sent by train to Ardgay. © Reprinted from , Shelter Publications, Inc., Bolinas, California, USA. Reprinted with permission. www.shelterpub.com
The Mission hall -or the Mission hut- is described as being gifted to the parish by Lady Ross and her sister of Balnagown Estate, at some point between 1912 and 1917. It was intended to be a place of "education and Christian instruction". Services were held during the winter months until recently. It was one of many beloved 'tin tabernacles' that has endured beyond expectations.
Tin Tabernacles are ecclesiastical buildings made from corrugated galvanised iron. They are arguably the best loved buildings of this type and yet many have now been lost, and those that survive are often under threat. According to Nick Thomson's A Study of Early Corrugated Iron Buildings in Rural Scotland, there are approximately 43,000 listed buildings in Scotland, and only 12 of these are corrugated iron structures in the rural areas, with only one Grade A listed, that is The Italian Chapel in Orkney.
Since 1843, when the new galvanization process was first applied to corrugated roof sheeting, the manufacture of corrugated iron sheets and its potential to commercialise them as kit form buildings developed quickly. At the Great Exhibition of 1851 prefabricated cottages and warehouses on display impressed Prince Albert so much that he ordered one as a ballroom for Balmoral Castle.
The industry flourished in the following decades, increasing availability and cheapness. This happened at a time when the Church in Scotland experienced a series of secessions and schisms which increased the demand for church buildings. Prefabricated churches were particularly appropriate for the Highlands, where they could be delivered by sea or by rail.
According to Am Baile, Speirs & Co. of Glasgow alone are known to have supplied the United Free Church with 75 churches between 1908 and 1914. Sonya Lynskaill estimates that possibly only 50 to 60 corrugated iron churches remain in Scotland nowadays.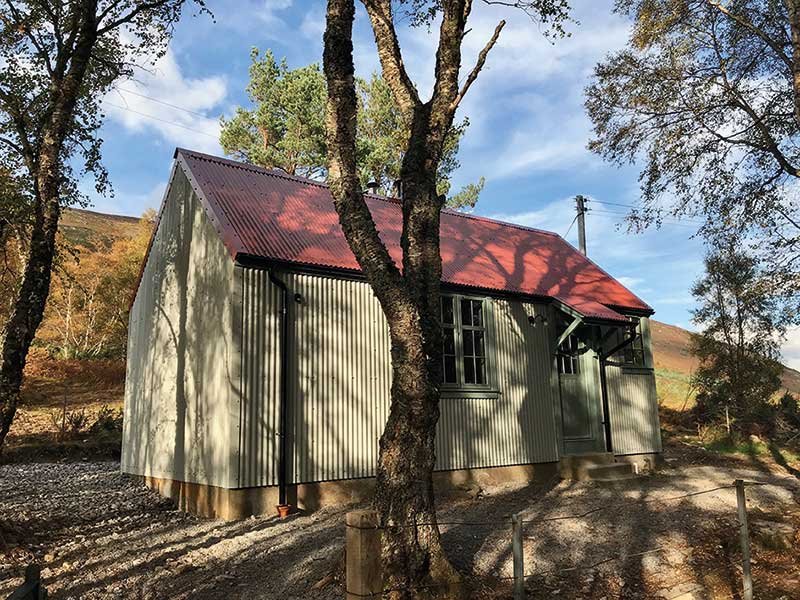 Refurbishment
James and Carol Hall of Croick Estate purchased the hall in 2017 and were keen to salvage as much of the original building as possible. The refurbishment was undertaken by Catriona Hill & Kate Morrison of Ardgay-based CH Architecture, employing local tradesmen Calum MacKinnon & John Ross (joinery); George Johnston (building): Pat McLellan (timber treatment); Moray Munro (plumbing); Jimmy Anderson (electricity); and Allan Ross (decorating). Highland Wireless provided the Wifi network. They have located a transmission station on the hill beside the hut which has brought superfast broadband to that part of the valley and has enabled a number of properties in the area to finally get a good internet connection. The owners are delighted with the outcome and hope that the works have given the building another 100 years worth of life.
by Catriona Hill / Silvia Muras