Hamnet, by Maggie O'Farrell
Maggie O'Farrell is a skilled writer, deft in expressing the joys and sorrows of family life, and no less so in her latest novel. Hamnet (Tinder Press, 2020) is inspired by the short life of Shakespeare's only son, who died in Stratford in 1596.
O'Farrell's books tend to delve into a particular theme. After You'd Gone is an exploration of grief; My Lover's Lover deals with break-ups; The Distance Between Us looks at how it feels to be a twin. But motherhood is a thread which runs through many of her novels. O'Farrell's mothers tend to be bear-like: strong, fierce, yet vulnerable, they love their children madly and protectively. Agnes Hathaway, Shakespeare's wife and Hamnet's mother, is a fantastic character – she lives for her children but also works as a healer and keeps a kestrel. As the story unfolds, we watch her negotiate life with Shakespeare before and after he discovers he can write. We don't know much about Agnes Hathaway, (referred to as Agnes not Anne in her father's will) and it's intriguing to read Shakespeare's story from the viewpoint of the wife left at home.
Sometimes historical novels can make you feel like you are on the outside, looking in through a window, but O'Farrell plunges us deep into the Elizabethan era. And really nothing is so very different when you get there – people still laugh and cry, love and die.
Hamnet is beautifully written, and a very satisfying read. O'Farrell has an uncanny ability to remember and portray the different stages of parenting, evoking memories and making mothers everywhere feel nostalgic.
by Liz Treacher, Author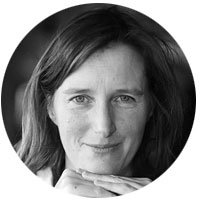 Liz Treacher is a writer and teacher based in Dornoch. The Unravelling is Liz Treacher's latest novel, available on Kindle or as a paperback from Dornoch Bookshop.
The Unravelling – Amazon Kindle Shop