Throughout these times of travel restrictions, a lot of people have been taking advantage of the many wonderful local walks – including the Gearrchoille Wood.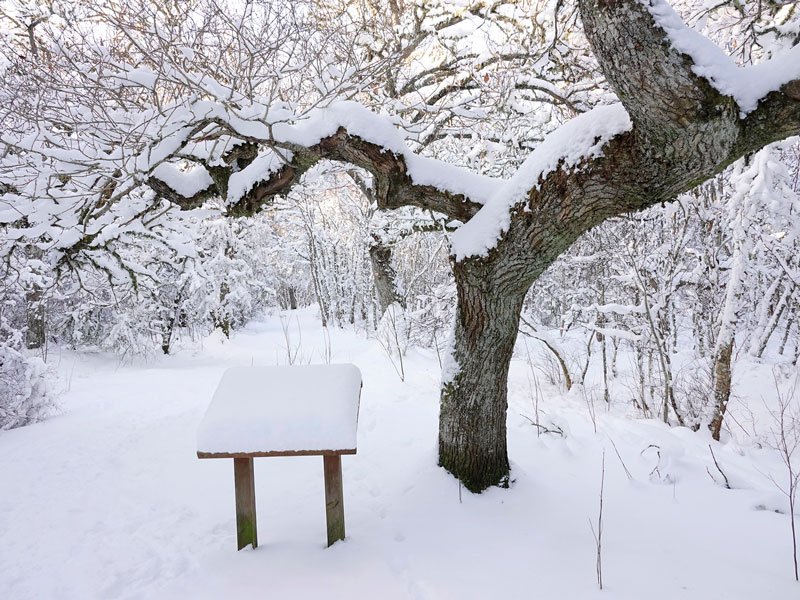 The oakwood has long been appreciated by those living in or visiting Ardgay. Alasdair Alpin MacGregor devotes a chapter to it in his book The Goat Wife –which describes many childhood summers spent visiting his Aunt Dorothy 'before and during the Great War'. He describes the atmosphere of the wood and the variety of plants and trees and wildlife found in the wood. Many of the flowers are still there to see – primroses, violets, celandine & bluebells; also the birds – chaffinches, bullfinches, robins, yellow hammers, wrens – all still found locally, but probably not in such numbers. It's difficult to know if the Gearrchoille covered a larger area than it does now – certainly it went down to the shore, but the maps from that time suggest a similar area to what we now have. There are several suggestions of faerie folk (and witches too!) being part of the woodland web. "…the furtive-footed, furry folk inhabiting such places, and moving about them with a tread so light, so fantastic, that … they would not wound the grass." We should all learn to tread lightly in such special places.
Back to the here and now – we have once again been forced to suspend our volunteer get-togethers, but with the arrival of the long awaited gravel for the car park and some lengths of the path, we will be working (not necessarily alongside one another) to spread this out. With the sudden arrival of warmer weather we will be on the lookout for the first frogspawn and birds checking out potential nest sites. Please post anything you see on our Facebook page – there have been some lovely snow scenes there the last few weeks.
And for those of you further afield who cannot visit at present, another few words from the Goat Wife:
"In the summer scent of the Gearrchoile there was something that, as a child, stilled me – something that hypnotised. The mere remembrance of it sends me a dreaming of sun warmed moss and pine-needles and wood-earth. If I close my eyes now, I can smell the warm fragrance of this miniature forest…"
by Betty Wright
Facebook: Gearrchoille Community Wood