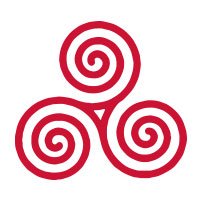 2020 saw the closure of Ardgay Scottish Rural Women Institute, the very first to open in the area in 1918, followed by Culrain/Invershin one year later in 1919. The following account is adapted from an article by Phyllis Hannah published in a recent issue of SRWI magazine.
---
On the 12th of July 1918, the first institute of Ross-shire Federation was inaugurated by Miss Campbell at a meeting held in Ardgay Hall, explaining the aims "For Home & Country" under the patronage of the Board of Agriculture.
The first meeting was held a month later with Mrs Littlejohn as hostess and Miss Helen Littlejohn demonstrating fruit bottling followed by Miss Reid, reading a paper on 'Fly Riddance'. The first person proposed for the committee was Mrs Ellis, on the motion of Mrs MacKay of Kincardine Cottage who said she was "a very sensible woman".
There were frequent concerts held to raise funds for various causes. One concert raised £46 for a new piano and another raised £20 as a donation towards the cost of a war memorial.
In 1927 Miss Littlejohn proposed that a subsidised soup kitchen should be organised for the pupils attending Tain Academy which proved successful. In 1938, three sub committees were formed within the institute: Hospitality, Entertainment and Competitions.
With the outbreak of World War II, SWRI held a meeting on the 14th of September 1938 to discuss war work. As part of their war work, the ladies of Ardgay provided Comforts (Christmas Parcels) for the local men serving in H.M. Forces and organised a concert to raise funds for their WRI Parcels' Fund. The Parcel boxes contained: one pair of socks, iced cake (especially made by A.C. Wilson of Bonar Bridge), a writing pad, a box of toffee, a tablet of toilet soap and a packet of razor blades.
The Institute celebrated its Golden Anniversary at the Bridge Hotel in Bonar Bridge presided by Mrs R. Mackenzie. The cake was cut by two founder members, Miss Hughina Ross and Miss Dolly MacGregor. Mrs Rose, president of Nigg Institute, congratulated Ardgay on being the 'grandmother' of the Ross-shire federation. For some unknown reason the Institute failed to recognise its 60th anniversary so arranged a celebration at Invershin Hotel to celebrate its 62nd instead.
In 1970, the first wedding shower was recorded when Miss Harriet Munro was presented with a table lamp on the occasion of her approaching marriage. Miss Munro was born in 1906 and had been attending meetings with her mother. She married William Smith at the age of 63 and died in 1997.
In 1984 it was decided that long standing members who had left due to ill health should be named as Honorary members, with Mrs Harriet Smith amongst the seven names suggested.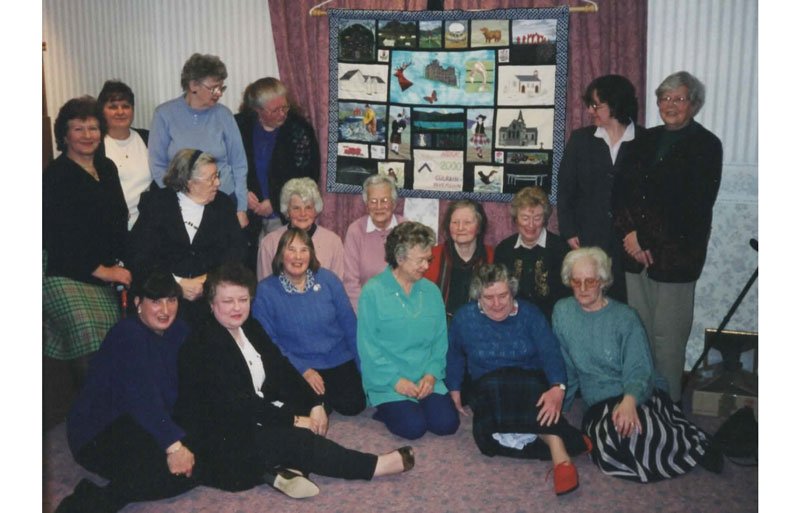 As the Millennium was drawing close in 1997 the Ardgay members in collaboration with Culrain/Invershin Institute decided to design and make a wall hanging depicting local landmarks and flora & fauna. The banner was completed and originally housed in Kincardine Church but was later moved to Migdale Hospital as it was starting to get damp in the church.
For many years, numbers at Ardgay Institute and Culrain/Invershin Institute had been fluctuating, with rumours of a possible merger being voiced as far back as 1990. The merger came about in 2017.
The following year Ardgay celebratee 100 years with an open evening at Kincardine Old Church followed by a Grand Tea Party the next day.
The coronavirus pandemic sadly brought about the closure of the Ardgay/Culrain Institute. Although the institute only had six members in its final years, they all actively participated in both annual Ross-shire Federation shows and won many trophies and their artistic talents will be greatly missed by us all.
---
Some Ardgay SRWI notable members
Mrs Mary Littlejohn
Mrs Mary Littlejohn was the daughter of Sir George Barclay Bruce. She was married to Alexander Littlejohn of Invercharron House, Ardgay, in 1869. The 'Littlejohn Album' was compiled by Alexander MacBain containing extensive material on the life and culture of the Highlands, but in particular, provides the definitive guide to the rules, history and Gaelic terminology of shinty, which Alexander Littlejohn supported extensively. The Littlejohns spent generously in their local area with the Invercharron Highland Gathering being formed in 1888 in the grounds of Invercharron House. Mary was named Honorary President of Ardgay SWI at the inaugural meeting and held the post until her death in 1929.
Helen Mary Littlejohn
Helen Mary Littlejohn was born circa 1870, the daughter of Alexander and Mary Littlejohn. Helen supported her father in his philanthropy and was the driving force behind the opening of the Ardgay Institute. She married John Bruce Williamson in 1931. She was elected as president of the Easter Ross Group of Ross-shire federation in 1932. Helen Williamson died in London in 1934. The Mrs Bruce Williamson Vases continue to be presented each year at the annual Federation Handcraft show.
Lady Margery Jean Brooke MBE
Lady Margery Jean Brooke MBE was born circa 1886 and was the daughter of Alexander Geddes of Blairmore of Glass, Aberdeenshire, a great-great grandfather of former British Prime Minister David Cameron. She was married in 1909 to Sir Robert Weston Brooke, an officer in the Queen's Own Yorkshire Dragoons. Lady Brooke lived at Fearn Lodge where she was Vice President of Ardgay Institute and she was awarded an MBE in 1920 for services to the Red Cross and the Easter Ross Nursing Association. Her grandson described her as a formidable lady who lived through many tragic losses of direct family members. She was a lady of strong right wing political views and regularly wrote to the Prime Minister and the Chancellor of the Exchequer and towards the end of her life she was quoted to have said that she had had a full life and didn't much like the country's politics so now was the time to die. She died in May 1975.
Mrs Isabella Ellis
Mrs Ellis was born circa 1867 Isabella Nicol and she was married in 1902 to James A. Ellis at Blythswood in Glasgow. The couple owned the Post Office and the grocer's shop in Ardgay. She was a well-respected member of the community. James was involved in organising the Home Defence Volunteer Service during WW2 shortly before his death in 1942. Isabella died in 1950.
Patience R. Mcgregor

Patience R. McGregor.  / © Sarah Horne

Patience R. McGregor.  / © Sarah Horne

Patience R. McGregor.  / © Sarah Horne

Patience R. McGregor.  / © Sarah Horne
---
Patience R. McGregor was born in 1911 as Patience Richenda Bland. Her Great Aunt was Elizabeth Fry, the social and prison reformer depicted on the Bank of England £5 notes. She was an excellent sports woman and a very talented artist, and wrote very fine poetry. She became a County Councillor for the Suffolk Country Council and served on the Education and Public Health Committee. At the beginning of the war she joined the Ambulance Service. She set up the first 'Youth Service Squad', for young people to undertake useful work within the village. She was asked to join the Government's Youth Committee with Richard Austin (RAB) Butler, a British Conservative politician and Education Minister, where they set up the 'Youth Service Volunteers', a service where camps were set up to cater for 14 to 16 year-olds. There were forestry camps and fruit picking camps, where young people from boarding schools and big manufacturing firms in the towns and cities could mix and have a break from the bombing at home. In 1945 she married Donald McGregor and in 1949 they moved to Bonar Bridge where Donald became the GP and Patience his unpaid receptionist. Patience soon got involved in village life with Brownies, Guides, Sunday School and the WRI. In 1958 she started an extremely successful Home Baking business selling wonderful home-made sweets and home baking from a slot machine, 'The Ever Open Shop', just outside the house. She learnt to weave and in the mid 60s she set up Kyleside Weaving and Handcraft which sold weaving, stag horn buttons and handmade goods, providing employment for many home workers. She continued to run the shop till she was 81, and died after a short illness in 1993.
by Phyllis Hannah
Last Updated on 10 September, 2021 by Kyle Chronicle