Lady Valerie Meux was probably one of the most eccentric persons to have stayed in the area. She had a high phaeton pulled by zebras, a roller skating rink at home and collected almost 2,000 Egyptian artifacts. She and her husband Sir Henry Meux were tenants of Alladale in the late 1800s.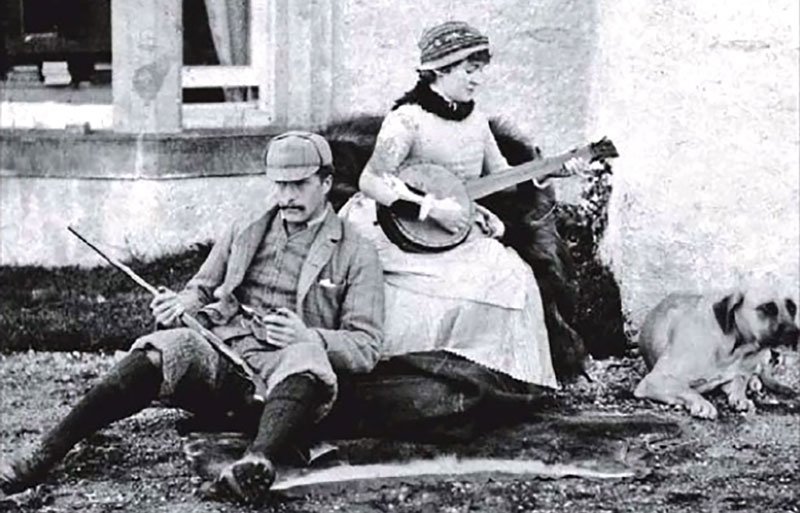 ---
She was born Valerie Susan Langdon in 1847. Little is known of her origins. She admitted being an actress and banjo player, and meeting Sir Henry Bruce Meux while she was performing in Brighton. However, it was rumored that she was instead a sex worker and had met him at the Casino de Venise in Holborn. The couple caused a stir with their wedding in 1878, and she was immediately shunned by her husband's relatives – whose wealth came from a brewery –, and particularly by the family of her mother in law, Lady Louisa Meux, sister of the 4th Marquess of Ailesbury.
Being snubbed by her in-laws didn't discourage Lady Meux, who embraced her husband's wealth and became a flamboyant, forward thinking socialite.
In 1883, Sir Henry inherited the family seat of St Theobalds from his father and Lady Meux took it on herself to transform the place into an impressive playground for the London aristocracy. She installed an indoor roller skating rink, a swimmingpool, a museum of Egyptian antiquities… and two zebras instead of horses pulled her carriage.
Perhaps the most extravagant of all features –at an eye-watering cost– was purchasing Sir Christopher Wren's Temple Bar from the City of London in 1889, and relocating the 400-ton structure brick by brick to create a new entrance gate. Guests were regularly entertained in the upper chamber and it is believed that it was here that Lady Meux dined with Edward VII, the Prince of Wales and Winston Churchill.
Whistler portraits
---
Lady Meux offered the first significant commission to James Abbot Macneill Whistler after his bankrupcy in 1879 following a lawsuit against the critic John Ruskin. Whistler painted three portraits of Lady Meux in 1881, although only two are left: Nocturne in Pink and Grey and Arrangement in Black No.5. The unfinished third portrait, known as Portrait of Lady Meux in Furs was destroyed by the artist after a dispute with Lady Meux.
Highland retreat
Sir Henry was very fond of deer stalking and said to be "a remarkably good shot with both gun and rifle". In 1891 they became tenants of Alladale and Deanich, both belonging to Sir Charles Ross of Balnagown. The rent was £2,300 a year. They provided stalking, fishing and grouse shooting for their friends on a grand scale. A 1891 newspaper reported: "Sir Henry Meux and his friends have shot 57 stags and number of roedeer this season in the forest of Alladale."
When Sir Henry died in January 1900, Lady Meux – the only person named on his will – became one of the wealthiest women in Britain.
She continued with her unique way of life, using her fortune both for fun and also to help others. She kept race horses under the name of Mrs Theobalds and her horse Volodyovski won the Derby in 1901. During the siege of Ladysmith in the 2nd Boer War, she offered to assist but was rejected by the War Office. She did it privately anyway, supplying six naval artillery guns at her own expense. After the war, she met Sir Hedworth Lambton, the commander of the Naval Brigade at Ladysmith, who made such an impression on her that she made him the chief beneficiary of her will on the condition that he change his surname to Meux, which he did. She died in 1910.
Her collection of almost 2,000 Egyptian artifacts was offered to the British Museum but they didn't accept the conditions so it was finally auctioned in 1911. A reputedly cursed mummy of her collection was sent overseas and sank with the Titanic.
by Silvia Muras
Last Updated on 10 September, 2021 by Kyle Chronicle