The Kyle Chronicle editor met mother and daughter Inger & Ingebjorg Smith at their studio in Tain. They both draw their inspiration from local landscapes and wildlife.

Haybale Curlews, collage & mixed media by Ingebjorg Smith.

Primrose Moon Oystercatcher, collage & mixed media by Ingebjorg Smith

Waterlily Woodcock, collage & mixed media by Ingebjorg Smith.

Inger Smith, Autumn Grasses, Acrylic on canvas.

Red Road, acrylic on canvas by Inger Smith.

Handknitted Scandi jumper by Inger Smith
---
KYLE CHRONICLE: When and why you decided to become an artist?
Inger: I remember drawing when I was really young, maybe 5 years old. It was war time in Norway and no-one had much, but there must have been a few pencils lying around. I remember pinching the ones my mother used to write her grocery lists with. I grew up in a really small village called Hakavik, only about five families lived there. I remember the neighbours asking me to draw things for them.
Ingebjorg: When I was two years old. Mum used to try to get some painting done and I constantly interrupted, I was just desperate to have a go. I used to shout at her "Want to paint picture!" Mum used to take a sketch book on walks to try to make some notes and I would scream my head off if I felt I was not getting to join in! My parents gave in and bought me my very first poster paint box. This just led to another set of problems as I could not leave it alone, much howling at bed time.
KC: Where do you get your inspiration?
Inger: Long walks in nature, in the forest or by the sea.
Ingebjorg: Now nothing beats seeing birds and watching the weather and seasons change. I love walking with camera and sketch book and binoculars. Not that my sketches are too great, I use them just to jog my memory later. Putting too much into a sketch takes the spontaneity out of the painting, so it's always quick. So it is the subject matter, birds usually. All you see is often just a fleeting glimpse. This can be really annoying, but also magical.
KC: You went to the Oslo School of Art in the 1950s and later continued your studies in Edinburgh. Do you think being an artist has changed much since then? How?
Inger: Everything has changed so much since the 1950s. It was really not that long after the 2nd World War and even paper was in short supply. At Art School in Oslo we used a lot of charcoal and we mixed our own tempera paints. This was made from egg yolk, linseed oil and and coloured powders, all shaken vigorously in an old milk bottle. If you left the paint too long it would really stink! Obviously people do still make their own tempera… but because they want to, not because they have to. Now there is an unending supply of everything you could possibly want in the way of art supplies, at the click of a mouse. Maybe that's not always a good thing. Now there are definitely more opportunities to sell your own work yourself, e.g. online.
KC: Can you tell us what's your favourite painting technique and why?
Inger: Now I prefer oils, or for speedy drying time, acrylics, they are so versatile.
Ingebjorg: I have a background in graphics and illustration, back in the days of cut & paste, literally, with a scalpel knife and Cow Gum. One of my tutors very helpfully suggested that to correct a mistake you could just stick on a patch instead of binning the whole picture. I never looked back. I turned what is really a collage idea into a multi-media print, pressed plants, upcycled paper and gold leaf layer cake, combined fast drying acrylics. The best bit is that you can tack all the cut out elements, like the birds or animals printed or real leaves, on to the background, then sit down and contemplate it for as long as you like… sometimes years. Until you are quite sure everything is in the right place. Easy to shift things around too. Combined with textured backgrounds I try to create mood and atmosphere.
KC: Do you think is it more of an advantage or a challenge for an artist to live in the North Highlands?
Ingebjorg: With websites and online shopping becoming more the norm I don't think it matters that much from a sales point of view where you are based. Being close to the environment I love to paint is far more important to me. I would really struggle living in a city and I would run out of inspiration very quickly. I do feel so lucky to live here, and if there are disadvantages I can't really see them.
KC: About the animals in your paintings…
Ingebjorg: For me birds in particular have an ephemeral quality. I know this is purely a survival strategy, but it gives them such magic and mystery. They can also be so comical. Whenever I get a minute I try to read more about them. The same goes for the deer, badgers, red squirrels -which have recently and quite thrillingly appeared in the area. But birds are still my favourite.
KC: Both your daughters have pursued a career in the arts, do you have any tips on how to raise 'artsy' children?
Inger: Don't let them near TV or computers! They will then have to make their own entertainment. Easier said than done these days. Young children love to copy what their parents do, so get really engrossed in an art project, so they can see what you are doing and they will want to get involved. Leave crayons and paper scattered about and see what happens. It helped that when my children were little TVs were comparatively expensive, so when ours blew up we never replaced it! It was black & white, a bit "snowy" and only two channels. Nobody missed it that much. Oh how things have changed!
Young children love to copy what their parents do, so get really engrossed in an art project, so they can see what you are doing and they will want to get involved.
KC: Who are your biggest influences?
Ingebjorg: When I was little I was very much influenced by watching Mum paint. I like the landscape bits of Edvard Munch's paintings, especially his "Moon on water" effects and I am a great admirer of Joan Eardley landscapes. I think I'm combining that with the bird illustrator Charles Tunnicliffe. Mary Anning, Beatrix Potter, Rachel Carson and who doesn't like David Attenborough! Natural history and wildlife broadcasters Alice Roberts and Liz Bonnin. The Tain Field Club for great talks on nature and local topics. My Biology teacher from school days, Mr Sharman, who made science and understanding of the natural world more accessible to someone very unscientific. Fellow artist and print maker Louise Worthy for her wonderful printed and stitched creations.
KC: We are now seeing a "knitting revival". What does knitting means to you and would you recommend it?
Inger: I find knitting really relaxing. Nordic knitting is great for keeping alert, there are so many colours, stitches to count and patterns to follow or make up. It can get really complicated. My mother and grandmother were both wonderful Scandi knitters, it was traditionally what women did on long winter evenings. So I grew up copying them. At Art School we were sent to the Folk Museum on the Bygdø Peninsula to draw the patterns from old tapestries and weavings, which we often converted into our own knitting patterns. Knitting has always been a part of my life and I still like nothing better than sitting on my sofa with my cat to "help", my wool and needles and a nice cup of coffee. Although not sure if I would recommend hand knitting as a career choice, it is too slow, not everyone appreciates the time it takes!
KC: A favourite spot in the Kyle of Sutherland area?
Inger: The walks around Carbisdale Castle and the Dornoch shore.
Ingebjorg: The swamp below Carbisdale Castle. Mostly it's just beds of common rush with a few scrubby trees, but I think it's perfect! There is always something new to see, sometimes there are whooper swans and golden eyes, mergansers and dabchicks. Sometimes absolutely nothing. To me it seems such a timeless landscape, even though there are a few fields and houses around. The grazed fields provide foraging areas for lapwing, curlew and oystercatchers. Wonderful if you catch a glimpse, but great just to hear them. Kingfishers have also been spotted a few times. Back from the river there are old oak trees, great for tawny and barn owls.
---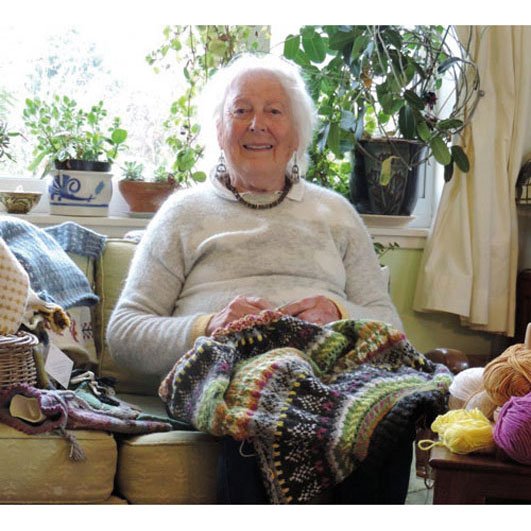 Inger Smith was born and raised in Southern Norway at the start of World War II. Inger went to the Oslo Kunstskole in the 1950s where she studied drawing & painting. Inger lived in Nairobi and London before setting in Edinburgh. She developed her magical landscape paintings especially after moving to the Highlands. She has exhibited widely throughout Scotland and has work -painting & knitwear- permanently on show at Studio Smith in Tain.
---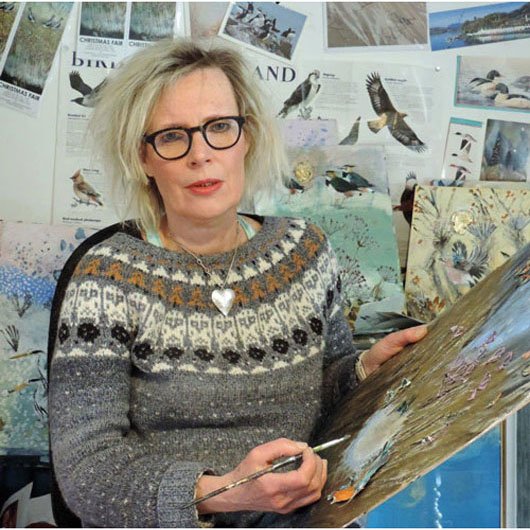 Ingebjorg Smith grew up just outside Edinburgh, then studied illustration & graphic design at the Glasgow School of Art. She worked for BBC Scotland as an illustrator on Gaelic children's programs and taught Art at primary level as well as lecturing at the Glasgow School of Art. She also used to design posters & props for theatre companies. She moved to the Highlands to concentrate on wildlife painting. Ingebjorg exhibits her work throughout the UK and now runs the Studio Smith Gallery.
Studio Smith Facebook page
Last Updated on 10 June, 2021 by Kyle Chronicle