In Guyana's Berbice region, a handful of interrelated families from the north Highlands were the first to build sugar-cane plantations. Among them were the Baillies of Rosehall.

Rosehall Estate, Sutherland circa 1900. Rosehall House can be seen across the river Cassley. © Marianne Ross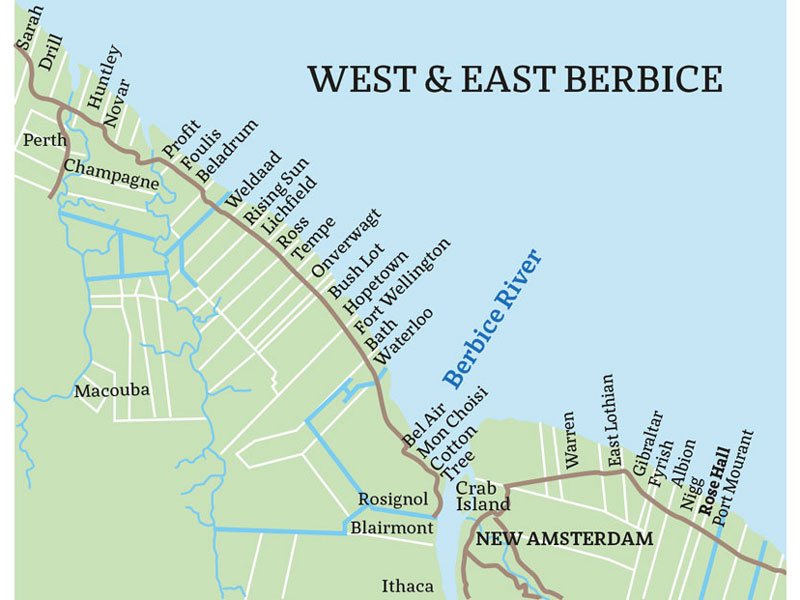 Map showing some of the place names related to Scotland in the Berbice region. Source: British Guiana Genealogical Society

Plaque in the Inverness Royal Infirmary. © David Watson
---
The first recorded owner of Rosehall Estate, which included the east side of Glen Cassley –the west side being a part of Balnagown Estate–, is William Baillie (c.1705-1779), the second son of Alexander Baillie of Dochfour, and Hannah, the daughter of Hugh Fraser, eighth Lord Lovat.
William had been the factor on the Balnagown Estate for many years. His fortune came from trading and money lending, and allowed him to buy Rosehall Estate from the Munros in 1748. As a landowner, Baillie didn't actively participate in clearing his tenants from the land, as he wasn't interested in sheep farming. However, he did set in motion a period of voluntary migration as he had let his lands to a tacksman at a very high rent. This rent was subsequently passed on to the small tenants who saw their rents increase twelve-fold. This was a time of great hardship in Sutherland, and as a result, some of Baillie's tenants are known to have left on the ship Bachelor of Leith, bound for North Carolina, in 1774.
Upon his death in 1779 (he is buried in Edderton churchyard), the estate passed to William's son, Major General Mackay Hugh Baillie of Rosehall (1748-1805), an army careerist and absentee landowner.
Although William Baillie didn't invest in the West Indies himself, he was related by blood and marriage to three families –Frasers of Belladrum, Inglis of Inverness and Cumings of Ardcannie (Moray)– who alongside Francis Mackenzie, 1st Baron Seaforth and Governor of Barbados, were some of the 'first speculators' who purchased and developed 3,000 acres near the Berbice river around 1800. These gentry families with business ventures in the West Indies successfully established a circular migration, by providing jobs to men in their sphere of influence. Bachelors would embark in their youth but return to Scotland to marry, retire and hand off to a new generation to continue the circle.
Rose Hall, Guyana
On the South American coast, south of Guyana's capital Georgetown, in the province of Berbice, there are over 30 place names associated with the northern Highlands: Alness, Belladrum, Cromarty, Dingwall, Dunrobin, Fyrish, Inverness, Tain, Tarlogie, etc. These were all former slave plantations owned by Highland families.
William Baillie of Rosehall was not an investor in the West Indies, but the Baillies of Dochfour were leading West Indian merchants in the 1700s and early 1800s, active in the slave trade and the owners of plantations in the Caribbean. William's nephews, Alexander and James Baillie, started trading in St Kitts and Grenada as 'Smith & Baillies' in the 1760s. Their substantial interests spread to include plantations in Jamaica, Nevis, St Lucia and Trinidad & Tobago. When these islands had been exploited, the Baillies concentrated their attention on the coast of Guyana where they established a number of sugar plantations.
William Baillie's son George had left Scotland aged 14 or 15 in 1770 for St Kitts, moving to St Vincent (1771), Grenada (1773), then back to St Vincent (1773) to work for Garraway and Evan Baillie. He was a cotton merchant, plantation owner and became one of the biggest slave traders of his day. In the late 1790s he formed a partnership with Archibald & William Alves and George Inglis. By 1803 'Alves & Comp' had bought two lots of land on Canje Creek named Rose Hall. It is believed that the name has its origins in George's family home Rosehall in Sutherland.
William Baillie's nephew Evan (George's cousin) also made a fortune as a Bristol-based slave merchant. When all slaves in the British colonies were finally freed in 1834, the Baillie family received £110,000 (about £12 million today) from the government in compensation for the "loss" of 3,100 slaves. Unsurprisingly, the former slaves received nothing.
George William Sutherland
Another connection between Rosehall, Sutherland and Rose Hall, Guyana is through George William Sutherland (born 1893), the son of a shepherd from Glencassley on the Rosehall Estate. Sutherland left home for the West Indies in the early 20th century and became a plantation overseer on the Rose Hall Plantation. Sutherland had children with several different women on the plantation, one of whom was born in 1923 and christened George William Sutherland Jnr. He returned home to Rosehall in 1944, becoming a 'vanman' for a butcher and marrying Jane Jack, a farmer's daughter. He died in 1952 at the Inverness Royal Infirmary. Ironically this institution was built from contributions of local merchants who had made their fortunes through owning plantations in Guyana. The building is now part of the University of the Highlands and Islands and has at its entrance a plaque to acknowledge the part played by slavery in its founding.
Gilbert and George Rainy
Around 12 miles from Rosehall, another Highland family had deep links with slavery in Guyana. Gilbert Rainy (born in 1782) was the eldest son of the Rev George Rainy, minister of the Parish of Creich. Gilbert traveled to Guyana in 1799, aged 17, to execute the will of his uncle George Robertson. The "property" –36 slaves– was auctioned at the plantation L'Amitie in Demerara, owned by Charles Stuart Parker who was married to Gilbert's sister Margaret. He died in Berbice in 1808.
His younger brother George Rainy (1790-1863) was also in Demerara in 1808, and later became the main representative in Demerara for the firm 'McInroy, Sandbach & Co.', founded by his brother-in-law Charles Parker, alongside James McInroy from Balnabruich, Perthshire and his uncle George Robertson of Kiltearn. The firm owned ships and plantations, and engaged in both slavery and transport of indentured labour. By the time of the Slave Compensation act, George Rainy, with 30 claims for 2,793 slaves in Guyana, received a £146,295 payment (around £16 million today), perhaps the largest payout of all the slave owners. George returned to Britain in 1837.
To know more about slavery and the Highlands, visit David Alston's website Slaves and Highlanders. The carefully-researched book Coolie Woman. The Odyssey of Indenture by Gaiutra Bahadur gives a poignant account of indenture labourers' life in British Guiana.
---
The 'Rose Hall martyrs' of the 1913 uprising
The indentured labour system became the replacement system for slavery. Around 230,000 Indian indentured labourers (coolies) arrived to British Guiana between 1838 and 1918. They had voluntarily entered into a loan (indenture) that bound them to a plantation for 5 years while earning a small fixed daily wage. Another 5 years would allow them to receive a passage back or to become free. Working conditions were often very harsh. In 1913, the Rose Hall plantation was owned by 'Booker Brothers, McConnell & Co.' ('Bookers'), who at that time was the biggest employer in British Guiana (humorously referred to as Bookers Guiana).
The manager of the plantation, James Smith, had renegued on his promise of giving the workers 4 days of holiday in January. Six weeks of agitation followed. Rose Hall's manager requested the transfer of the ringleaders. Tensions escalated until on 13th March a large number of policemen went to Rose Hall to confront the crowd and shot dead 15 workers, including a woman, badly injuring another 39. It was possibly the deadliest suppression of unrest in the indenture era across the Caribbean. The shooting fuelled India's nationalist movement, who vowed to fight for the end of indenture everywhere, and in 1920 all coolie contracts across the British Empire were finally voided. A Rose Hall Martyrs monument was erected in Guyana in 2014.
by Silvia Muras / David Watson