News from the Creich & Kincardine RBLS branch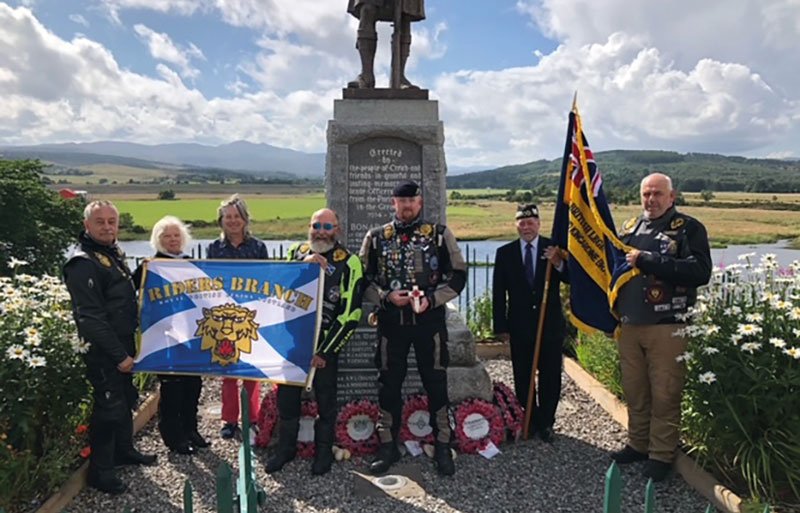 This year, as sadly every year, we have lost some of our longest serving and loyal veterans. We extend our most sincere condolences and ongoing support to their families. Ardgay received a very generous and anonymous donation of two new memorial benches to replace the wooden ones. Our sincere thanks to our sponsor and to Graeme MacKinnon (Ardgay) who co-ordinated everything, and to Ian Munro for the poppies on his garden fence. The Branch is also grateful to the Tain Branch, who donated a wreath for us to lay at the Ardgay War Memorial in commemoration of the 100 years of RBLS in June.
As with most RBLS branches and other organisations, we are going through a drastic membership crisis, not helped by recent events. Our current membership is in decline, with no new members joining during the past few years. RBLS Membership is now open to everyone, either as full, family or associate member. This year at the virtual Annual Conference it was agreed that all membership categories will have the same status within branches, and this means that office-bearers could now be branch members who have an interest in supporting and preserving RBLS in their local community.
As part of the process of honouring our National President Sir Alistair Irwin on his retirement in January after 15 years, the RBLS Riders Branch plan to visit as many branches as they can. The Riders hope to meet a local branch member at their War Memorial and have a poppy cross signed for presentation to Sir Alistair. Ardgay & Bonar Bridge were both visited on Sunday 8th of August, crosses duly signed and photos taken. We were extremely fortunate in that Earl Haig's Granddaughter Raina was passing on her way to Bettyhill and, after some persuasion, agreed to pose for the photograph at Bonar Bridge War Memorial.
There are currently 15 organisations tasked with providing support to our veterans, under the umbrella of the Unforgotten Forces Local Consortiums, Age Scotland's Veterans Project and RBLS Area Welfare Offices. The Partnership includes: Action on Hearing Loss, Age Scotland, ILM Highland, Citizens Advice Scotland, Defence Medical Welfare Service, Erskine, Fares4Free, Legion Scotland, Luminate, Music in Hospitals and Care Scotland, Poppyscotland, Scottish Older Peoples Assembly, Scottish War Blinded, Soldiers, Sailors and Airmens Families Association, University of West of Scotland. If you need help, or can help in any way please contact us, or those organisations directly.
by David Hannah, Creich & Kincardine with Lairg & Rogart Branch Treasurer
Last Updated on 10 September, 2021 by Kyle Chronicle