The group is bringing first-class musicians to local venues across Sutherland and has recently received the 'Club of the Year 2019' at the MG ALBA Scots Trad Music Awards.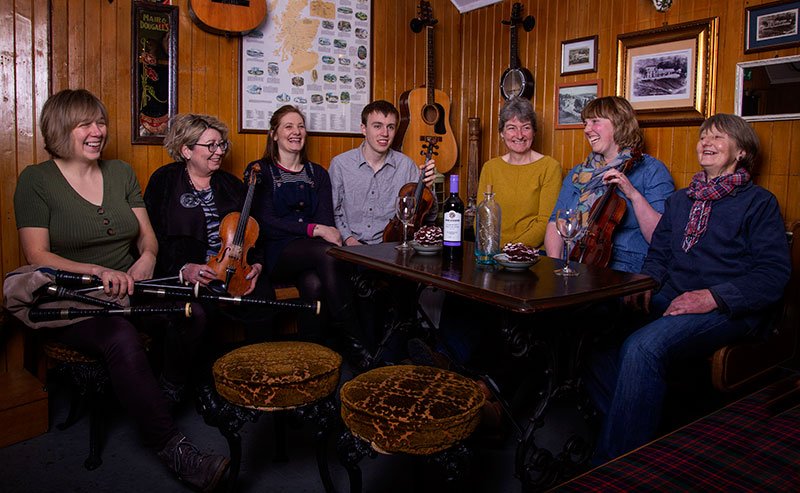 We met with the Sutherland Sessions committee on a stormy February afternoon at Invershin pub. The photo shoot was done in a very relaxed, cheerful atmosphere. Clearly there might not be many occasions for all of them to see each other, because at some point they were having an impromptu meeting in between photos. Becky Shaw kindly answered my questions on behalf of the group.

Kyle Chronicle: When and how did the group form?

Sutherland Sessions: Early in 2016, initially by Fiona (MacLeod), Myra (Morrison) and Becky (Shaw). A first little afternoon concert with Saltfishforty, who are friends and were passing, led to a discussion about doing some more of this sort of thing and getting young people involved. We formalised into a committee with a constitution and got a little start-up funding from the Council's Ward Discretionary Funds. Stephen Mackintosh has helped us since the beginning with light and sound, for which we are very grateful. 
We found that people liked the concerts and were really supportive, so we've able to keep going and expand our programme. We put out a call to anyone who wanted to join the committee or get involved in any way and now we have some regular volunteers, as well as new committee members Zoe (Livings), Eimear (Ross), Ruairidh (Gollan), Ann (Renouf) and Andrena (Ballantyne). Megan MacDonald from Lairg was on our committee for a while too but her own musical career has seen her travelling, so she stood down recently.
KC: Did you know each other before?

SS: We're all connected in different ways -through work, family and friends, though not all of us had known all of the others. It's fair to say that after more than 50 gigs and all the discussions and organising that goes along with it, we all know each other a lot better now.
KC: Has the recent award changed things for the group? Do you receive more attention now?
SS: It has definitely helped. Our local audiences have been incredibly supportive for ages but it's nice to get wider recognition. We're all volunteers so it's hard to put on something that's totally professional when we're all busy with jobs, families and so on, but I think it's helped us by being seen by others as a credible organisation.
KC: Do you feel supported by the various local communities?

SS: Very much so. We wouldn't have been able to keep doing it unless we'd had folk willing to buy tickets and come out and listen, sometimes to bands or musicians they weren't that familiar with. It's been great to see the audience develop and we have a really strong core following now, who come out regularly.
KC: What do you find more challenging? And more rewarding?

SS: Finances are always challenging. We've been lucky to get little bits of funding here and there, -at the moment we have some funding to support music in schools and concerts for older people- but generally the gigs have to pay for themselves; the musicians, the venue hire, light and sound and costs of promotion. It's why we always have a raffle! It's getting easier now that our mailing list is bigger and more people have heard of us, but there was a spell when we were a little bit short on nearly every gig and members of the committee were dipping into our own pockets. The really rewarding things are seeing that people appreciate what we're doing for the area and for our own communities. Also, seeing the youngsters coming through, playing support slots with us and bringing huge talent and enthusiasm.
KC: How many gigs have you organised?
SS: We've actually lost count, but it's more than 50. One year we got a bit carried away and had a spell when we had a gig every 2 weeks, which is too much for the audience as well as the committee. We're trying to be stricter with ourselves now, but then you get an email from a great musician…
KC: How many bands / musicians have passed by the area? 

SS: More than 100 touring musicians, although there's quite a lot of overlap between bands, so we've seen some musicians 3 or 4 times in different line-ups.

KC: How many different venues?

SS: We think we're up to 19 in total now. It's mainly village halls, but also Timespan, pubs, restaurants, and the old Rogart Mart.
by Silvia Muras
Sutherland 
Sessions in figures:
Since 2016
More than 50 gigs
Around 100 musicians
19 venues
See their next concerts here