Up to £250 for heating or energy efficient white goods. Supported by RWE Rosehall Com­munity Fund, in partnership with East & Central Sutherland Citizens Advice Bureau.
As the nights draw in and the weather gets colder you may need to switch on your heating for longer… and you may be struggling to make your payments. If you have seen our adverts for the Helping Hands Fund and are wondering about whether you should apply – here is some information to help you decide.
East & Central Sutherland Citizens Advice Bureau (CAB) Manager Rachel Sutherland has told us that:
"Of the clients who have applied to the Helping Hands fund, 75% have been willing for us to check if there is additional financial support available to them. Of these clients, 80% have found they are eligible for additional support and have gained financially as a result."
The main ways we have been able to support clients in addition to the funds:
 Benefits entitlement from DWP and Social Security Scotland (including health and disability benefits such as DLA, PIP and AA.)
Accessing Scottish Welfare Fund
Discretionary Housing Payments from their LA
Assistance in managing Money and Debts
Energy Efficiency Advice
Financial Health Checks (to review and reduce amount paid for household bills)
On top of this, many of the clients are entirely new to our service and have become aware of the help and support we can provide as a result of accessing these funds. I think this demonstrates very well the value of our partnerships and I want to thank you for involving East & Central Sutherland Citizens Advice Bureau."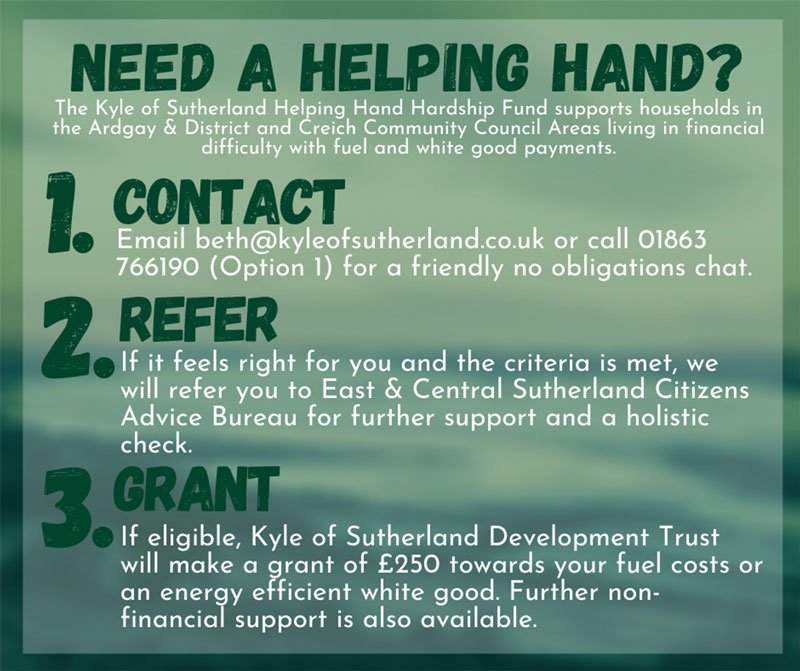 Here is some feedback from somebody who has gone through the process.
"I heard about the Helping Hands fund and wasn't sure if I would be eligible, but I applied, and it was a very simple process. CAB got in touch with me to go through the form and after that, because I was eligible the Trust were able to give me a one-off grant of £250 to pay for electricity to heat my home.  This really helped me out at a time when we needed it. By applying, it also made me aware of the Community Larder – and CAB were also able to give me good advice about other areas of support. The process is completely confidential – I would encourage anyone who feels they need a helping hand to apply."
So, if you are worried about heating your home, and if you are on any kind of benefit please get in touch to find out if you are eligible. Please note that funds are limited – and will be allocated on a first come first served basis.