Social distancing restrictions have made it difficult to hold some of our activities, but we still have been able to provide opportunities to exercise and socialise.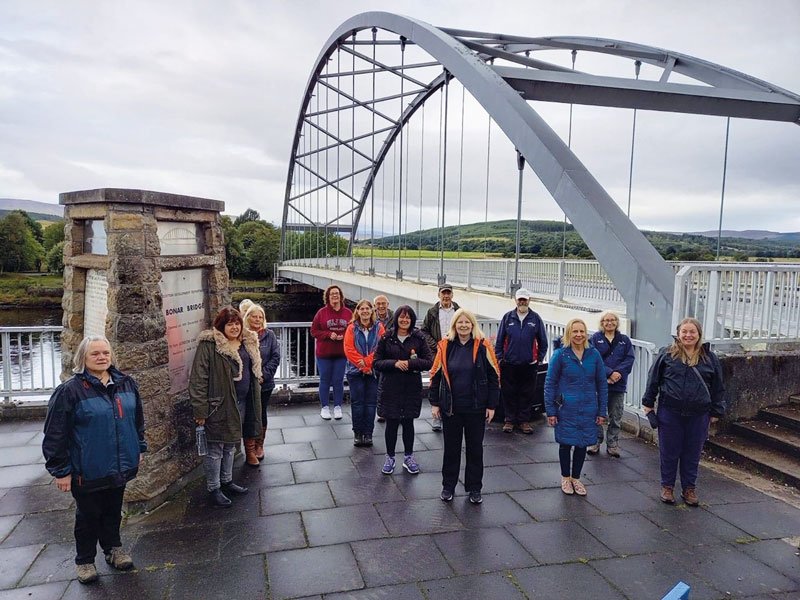 Our Walk and Talk group meets every Monday. © Kyle of Sutherland Development Trust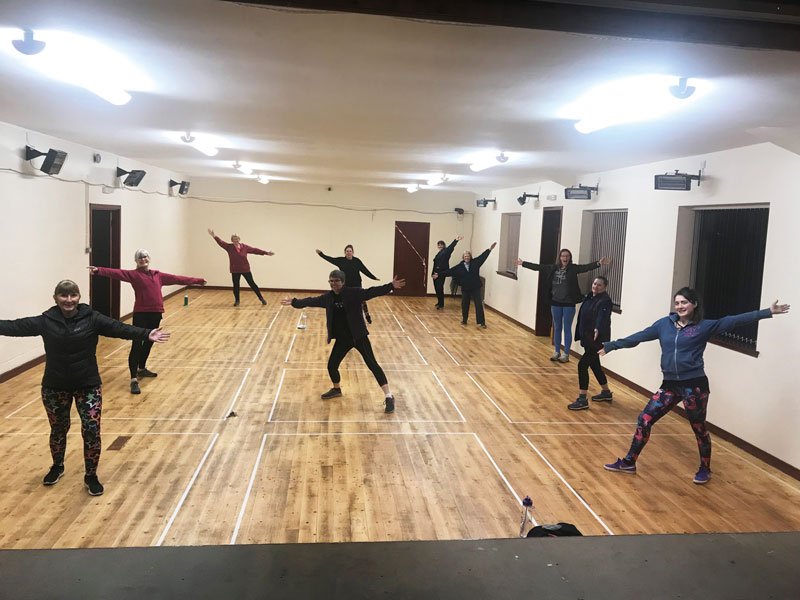 Our Latin Cardio Fit class now takes place in Invershin Hall every Tuesday evening. © Kyle of Sutherland Development Trust

Our walks last no longer than one hour and the routes taken are never challenging. © Kyle of Sutherland Development Trust
---
This has been a challenging year for the KALM Project because one of our main objectives is to increase the physical/mental health of our community and reduce feelings of loneliness or social isolation. Clearly the social distancing guidelines made this difficult to achieve.
When the country was put in lockdown in March, we had to suspend our weekly physical activity programme. We did, however, continue to run two of our most popular group activities, Ballroom/Latin and Latin Cardio Fit on Zoom. Many thanks to our sessional dance instructor Jan Trumble for making this possible. At the end of July, the Kyle of Sutherland Hub purchased a marquee, and we were able to transfer the Latin Cardio Fit there once a week as well as continuing the online sessions. However, due to social distancing regulations only four participants were allowed in the marquee to take part in each class.
During the summer we also held weekly Play and Food sessions for our local Primary School children at the Hub.
At the beginning of November, we had the great news that Invershin, and Rosehall Village Halls were re-opening to the public, this is allowing more participants to enjoy the activities; for example the Latin Cardio Fit class that now takes place in Invershin every Tuesday evening can have up to 15 participants following social distancing regulations. Rosehall Village Hall is also hosting our Ballroom/Latin classes there every Tuesday. Spaces for each of the classes have to be booked in advance and are full at the time of writing.
In addition, we have organised twice weekly Yoga classes every Monday at the Hub. Again, these classes have been very popular and are also fully booked.
In September after lockdown and shielding, we thought it would be a great idea to get people outdoors. So, we started a weekly Walk and Talk group, which meets every Monday. Our first 15 participants received a free Fitness Tracker watch to motivate them to walk more. Our walks last no longer than one hour and the routes taken are never challenging. As reducing social isolation is as important as exercise, on completion of the walk we return to Bonar Bridge Golf Club or to the Hub where we treat the walkers to free tea/coffee and biscuits.
Our popular weekly Community Food Stop Cafe had to end at the beginning of lockdown and remains closed. We know that this service is very much missed in our community and by residents of neighbouring communities. Hopefully it will be up and running again in the not too distant future.
The free Community Larder has continued to serve the community throughout the pandemic. It is currently open every Tuesday and Friday, 10am until 2pm. The Larder food is free of charge and is available to everyone in our community. We stock a variety of tinned, frozen and packaged foods which are mainly donated to us by Community Food Initiatives North East in Aberdeen. Due to social distancing, people must book an appointment to attend the Larder. Please phone 01863 766190 to book.
by Beverley Hill