Do you have a strong feeling about something you read? Do you want to share your opinion or point of view?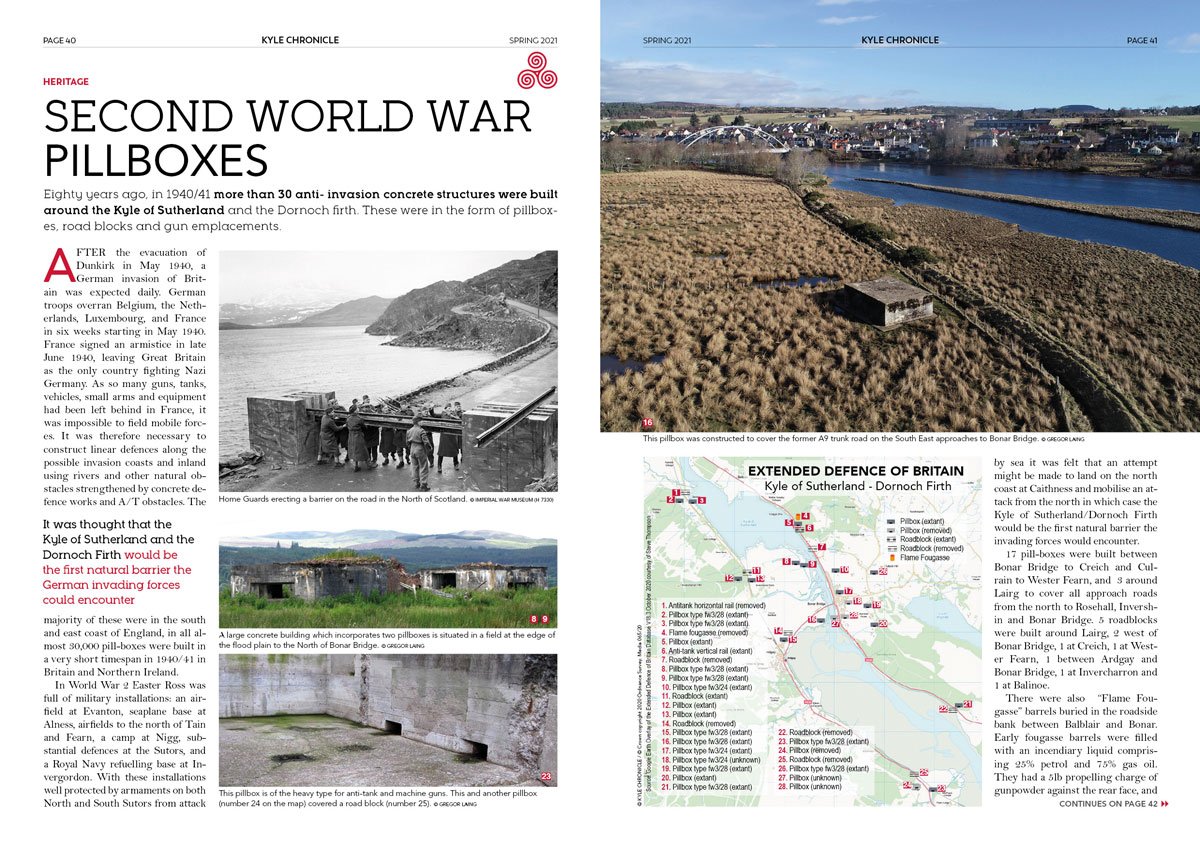 I was most interested to read about the many pillboxes in the area. In the early autumn of 1940 with my mother and brother, I was evacuated from the Tees-side area to stay with my aunt Ruby and uncle Abner Anderson at South Bonar.
On coming downstairs, one morning, I noticed that the porch was in disarray. What had happened? During the night, soldiers had been guarding the bridge from the pillbox in the garden. This pillbox is not shown on the published map. It was situated in the garden at the side of the house between the storehouse and the house itself. It was quite well hidden under the big trees and had a direct view of the bridge. As I recall, the bridge could be blown up from the pillbox. Aged nine at the time, I have no recollection of being at all surprised or worried about the event. I'd heard nothing during the night. Had the adults been up all night? They didn't say. Was this merely a military exercise or was invasion thought to be imminent? "Our" pillbox was removed after the war.
The photo alongisde these lines was taken in the very early 1950s when Frank Mackenzie Ross was visiting from Canada. It was taken on his camera, probably by his driver. Great excitement to have colour and, probably, the latest thing in cameras in north America. The bridge is just to the right and the pillbox had been to the left of the tree and behind, as I remember it, a fence and sort of hedge on the roadside. I doubt that there's anyone left in Bonar who'll remember it – they'll have to be nearly 90 as am I! My brother, not quite 85 doesn't. My grandfather moved to the house – then the Ardross Inn – with his parents about 1832. It had a great history and is visible in the Daniell etching of the first bridge.
by Katharine Broome, Witney (Oxfordshire)
Last Updated on 4 December, 2021 by Kyle Chronicle