The centre continues to operate a service to the community, and although the building is still closed to users, we have all the guidelines and precautions in place for the centre to open when we get the go ahead.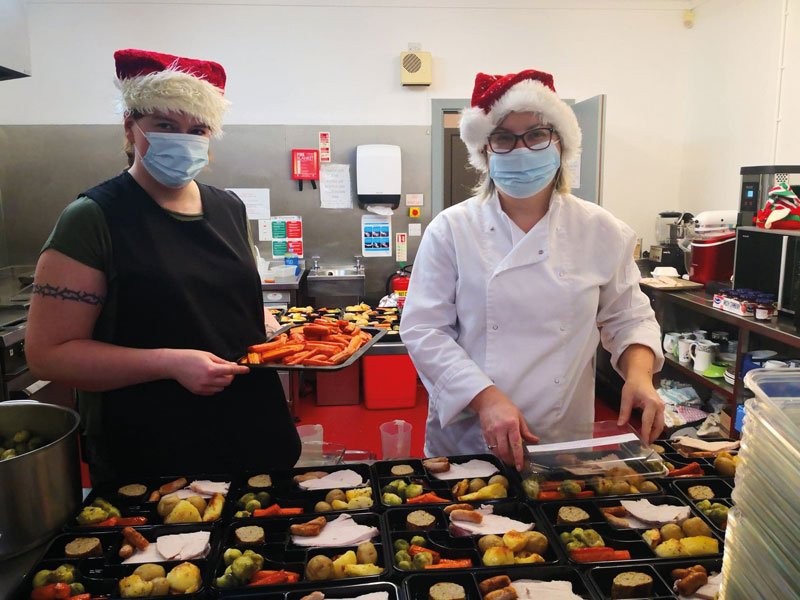 We continue to supply meals four days a week, the meal is two courses with the bonus of  a friendly face delivering. There is a small charge of £4 for this 'delivered to your door' meal.  However if there is anyone in the community who requires this service but is unable to pay the £4, please contact us and we will do what we can to help.
We are still providing deliveries of groceries, prescriptions etc. and also helping with patient transport from Migdale hospital.  As the vaccines are now being rolled out, we are here for anyone who requires transport to the Creich Surgery for their jab;  just tell the receptionist that you require transport.
We have joined with FareShare to help deliver food to the community.  We have had our first delivery of supplies so if you would like to come along to the centre with a carrier bag, ring the front door bell and wait, we will give you a list of what's available and you can then decide what you would like.
Christmas activities
Since we were unable to give our members a Christmas party at the centre this year, we decided to take the party to the members. We delivered a Christmas three course meal with a present to 71 members in Ardgay, Bonar Bridge, Lairg, Tain, Dornoch, Embo and surrounding area. This not only meant a lot to the members, but also to our staff who had not seen some of them since March 2020.
When the lockdown was eased we took two clients at a time on our bus for a mystery tour stopping for coffee which was taken either on the bus or if it was a nice day,  sitting outside.  We hope to get this activity going again when lockdown is eased.
Although this is a strange time here at the centre we are getting everything ready for clients' return. We have made the main room cosier with new curtains, this being made possible with a donation from Keith Williams in memory of his mother Pat, who was one of our volunteers then later a member.
This summer we had a visit from the UK representative for the Bradbury Foundation who where our major funders when the centre was built way back in 1996. They had decided to visit some of the charities which they had helped, and to see how these charities had progressed. The representatives were very impressed with the centre and took lots of photos, they also gave us an explanation as to how the Bradbury Foundation was founded. It was all very interesting and we were left knowing a bit more about our benefactor whose name was Bertram Walter Bradley (changed to Bradbury). He was born in Cheshire in 1885, becoming a master butcher and later a successful businessman. He left England when he was 24 to start a new life in Hong Kong where he lived until his death in 1970. This visit was instrumental in us applying to the Bradbury Foundation once again, and the good news is that the application was successful and they will be funding our new Minibus which will be with us this summer.
Community Bus project
Rather than selling our present minibus, the Centre is now applying for funding to run this vehicle as an affordable community bus which will be available to the communities of Lairg, Bonar Bridge, Ardgay & Dornoch.  Groups in these areas will be able to hire the bus using their own volunteer drivers which keeps the costs low,  and we will be running MIDAS training courses so that groups can get drivers trained to the standard required to drive our bus. We also hope to have funding for some D1 driver courses which will allow any younger person who is over 25 the chance to gain this valuable section on their license. We welcome any enquiries on the project.
by Lorraine Askew, Manager
Last Updated on 10 March, 2021 by Kyle Chronicle