The Hub along with many other services remains closed, waiting to be allowed to open again. Here is a look back at what we have done since the last edition and what plans we have for the future.
December was a busy month at The Hub. We facilitated 41 different activities for all ages, including Adult Crafty Cafés, Family Crafty Cafés, Christmas Eve Box Afternoons, Over 60's Coffee Afternoons, Pre-school Activities, Kempo, Yoga and Boogie Bounce.
We held two Christmas Eve Box afternoons which were a huge success. These sessions were a time for parents/carers to make a beautiful Christmas Eve surprise basket for their children to enjoy. In total 60 boxes were created, a special handmade gift raising smiles for those giving and those receiving.
We have held two Over 60's Coffee Afternoons. Through the provision of an enhanced protective environment with vigorous safety measures these afternoons have given the older generation the chance to come back out into the community, enjoy a free drink and cake and have a good blether. Every person who has attended these afternoons has said how safe they feel and what a difference having this social opportunity has made. Keep a look out when we reopen for more of these lovely afternoons.
Our new Adult Crafty Cafes have been a real hit, and something we hope to continue running when the funding for this activity ends. We started running family crafty cafes in July with art & craft mainly aimed at children, but we noticed how many adults also enjoyed the chance to make something if there were some spares. We decided to try an adult's version, which followed the same principles: easy to create projects requiring no experience. Those who attended in December had lots of fun making amazing crafts including wooden bird feeders, Christmas table center pieces and wine bottle lights. We are looking forward to facilitating these again.
Our Family Crafty Cafés and Pre-school activities continued to be popular throughout December. These activities allowed children the opportunity to not just get crafty but also have an outside play with their friends and experience some normality.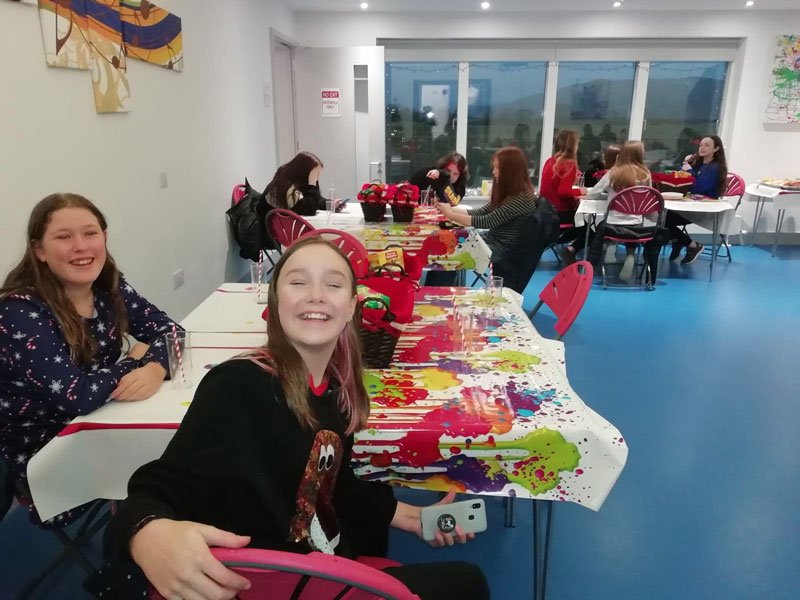 Our young people have continued to enjoy "Feel Good Friday". These afternoons have given our young people somewhere safe, consistent, and inclusive to go during these uncertain times. Every Friday afternoon our young adults are provided with a craft activity, food and the opportunity to meet with friends. During this lockdown we have been providing art packs for them to get creative at home.
Our gym has been adapted with screens and with reduced numbers allowed in at any time. It has enabled people to continue to keep active in a safe and protected way. We have been fortunate to secure funding for a full-time physical fitness facilitator & coordinator which we hope to have in place when the gym is permitted to reopen. This project is there to help all people whether you are already a gym user of not. There will be one-to-one support available, group support, and other classes outside of the gym environment to support persons of any age and ability. The focus is not about getting super fit but also managing pain and mental well-being. If this is a service you feel you could benefit from, please get in touch.
Our café has also benefitted from a screen makeover and was open for eat in or takeaway food and refreshments. Our menu has changed and prior to closing at the end of December delicious baguettes with a side salad, falafels, soup and home baking were on offer daily.
The support we have had from the local community has kept us going throughout the pandemic. Reducing isolation is at the heart of everything we offer under normal circumstances, and this is even more important now when isolation is exacerbated by the restrictions of the pandemic. We are busy developing, activity programmes for when we can reopen and would love to hear if you have any suggestions.
To find out more about any of our services or for any other information please call 01863 769170, email info@kyleofsutherland.com or drop us a message via Facebook.
Amazing feedback
 "What a fabulous end to 2020, a tough year for children so this is a real treat for them. Great to have some adult time"
"The Hub has proven to be the centre point of the community. Thank you for all your hard work. The support you are giving is invaluable"
"So lovely to see our children interacting again, thanks"
"I look forward to coming each week, I feel a lot less isolated"
"Everywhere is very clean, safe and well-spaced out"
by Carol Shaw, Manager
Last Updated on 10 March, 2021 by Kyle Chronicle